Ibiza Weather
Check on the weather in Ibiza before you book your holiday. Whatever kind of trip you are planning, take a look at today's temperature, the outlook for tomorrow and what the weather is usually like at this time of year. The weather guide shown below is for Ibiza Town. Read more
Usually
Current
Outlook

in July

Now

Tomorrow

View Ibiza
Weather by Month
View Ibiza
Weather Today
View Ibiza
5-day Forecast
Low deposits on holidays in 2014 from £100

Book your summer 2014 holiday or early bird winter 2014/15 holiday today and pay low deposits from £100 per person or £250 per family (2 adults and up to 4 children). Book online for further discounts from Thomson.
An overview of Ibiza weather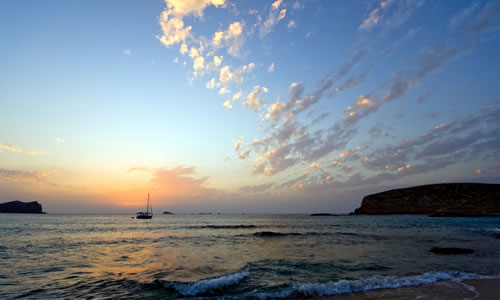 Sailboat at sunset on the west coast of Ibiza © Oliver Hoffmann
Map of Ibiza
Select a destination from the Ibiza Map to view the holiday weather guide. Alternatively, select from the list of destinations below the map. Can't find the Ibiza weather destination you are after? Try the Destination Search.
Cala Gracio Cala Llenya Cala Llonga Cala Vadella Es Cana Es Figueral Figueretas Ibiza Town Playa d'en Bossa Port des Torrent Portinatx Puerto San Miguel S'argamassa Sa Caleta San Antonio San Antonio Bay San Jose San Juan San Miguel Santa Eulalia Talamanca
Ibiza weather by month
Check the weather for a particular month in Ibiza by selecting a month from the list below. Alternatively check which month usually has the Best Weather in Ibiza. If you are not sure where to go, why not try our Holiday Planner.