Seychelles Weather
Check on the weather in the Seychelles before you book your holiday. Whatever kind of trip you are planning, take a look at today's temperature, the outlook for tomorrow and what the weather is usually like at this time of year. The weather guide shown below is for Mahe. Read more
Usually
Current
Outlook

in October

Now

Tomorrow

View Seychelles
Weather by Month
View Seychelles
Weather Today
View Seychelles
5-day Forecast
On the Beach sale: up to 40% OFF holidays

Save up to 40% on last minute beach holidays for summer 2014 with On the Beach. Check out holidays to Sharm el Sheikh, Hurghada, Majorca and Costa Dorada. Bookings over £1,250 will receive a larger discount.
An overview of Seychelles weather
Most of the 90 Indian Ocean islands that make up the Seychelles are low-lying although Mahe, the largest in the group, has a hilly terrain. They lie outside the cyclone belt but rainfall everywhere is moderate to heavy all year, particularly between October and March and on their southern coasts, which are exposed to the southeast trade winds.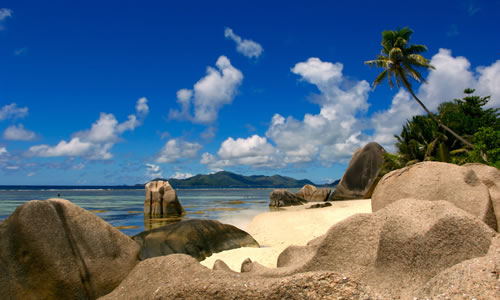 Stones and rocks on Seychelles © Nikolay Postnikov
Despite all the rain, the climate is delightfully sunny with temperatures high but tolerable and humidity tempered by soft ocean breezes - hence the islands' popularity with holidaymakers. The driest months are June to August.
What to pack for Seychelles weather
Take light clothing and anticipate rain at any time of year.
Map of Seychelles
Select a destination from the Seychelles Map to view the holiday weather guide. Alternatively, select from the list of destinations below the map. Can't find the Seychelles weather destination you are after? Try the Destination Search.
Beau Vallon La Digue Mahe Praslin Silhouette
Seychelles weather by month
Check the weather for a particular month in the Seychelles by selecting a month from the list below. Alternatively check which month usually has the Best Weather in the Seychelles. If you are not sure where to go, why not try our Holiday Planner.