Mauritius Weather
Check on the weather in Mauritius before you book your holiday. Whatever kind of trip you are planning, take a look at today's temperature, the outlook for tomorrow and what the weather is usually like at this time of year. The weather guide shown below is for Port Louis. Read more
Usually
Current
Outlook

in February

Now

Tomorrow

View Mauritius
Weather by Month
View Mauritius
Weather Today
View Mauritius
5-day Forecast




Save 10% on holidays to Mauritius when you book online with Thomson Holidays. Save an extra £60 with the Thomson discount code '49386'. £900 minimum spend.
An overview of Mauritius weather
The pretty volcanic island of Mauritius is a popular holiday retreat, largely because of its climate which, although tropical, is tempered by the surrounding seas so that temperatures never soar uncomfortably high. However, high humidity can sometimes make the nights oppressive. Rainfall is substantial throughout the year, particularly on high ground and on the southern coasts which are most exposed to the southeast trade winds.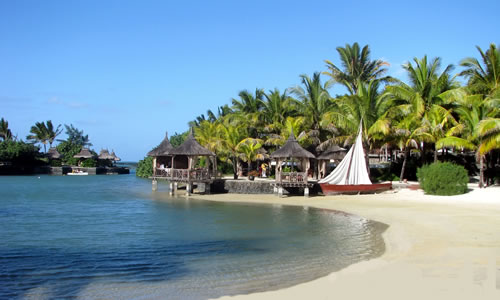 Resort in Mauritius © Myrtille MLB - Fotolia.com
The wettest period is from December to April and, if you are unlucky, you could be caught in an occasional cyclone. From May to November, rainfall is lowest and the weather is generally sunny and delightful, though cooler.
What to pack for Mauritius weather
Pack light clothes and rainwear for the wettest months.
Map of Mauritius
Select a destination from the Mauritius Map to view the holiday weather guide. Alternatively, select from the list of destinations below the map. Can't find the Mauritius weather destination you are after? Try the Destination Search.
Bel Ombre Belle Mare Blue Bay Flic-en-Flac Grand Baie Grand Gaube Le Morne Port Louis Poste de Flacq Rodrigues Island Trou aux Biches Trou d'Eau Douce
Mauritius weather by month
Check the weather for a particular month in Mauritius by selecting a month from the list below. Alternatively check which month usually has the Best Weather in Mauritius. If you are not sure where to go, why not try our Holiday Planner.