India Weather
Check on the weather in India before you book your holiday. Whatever kind of trip you are planning, take a look at today's temperature, the outlook for tomorrow and what the weather is usually like at this time of year. The weather guide shown below is for New Delhi. Read more
Usually
Current
Outlook

in March

Now

Tomorrow

View India
Weather by Month
View India
Weather Today
View India
5-day Forecast




Book your summer 2015 holiday today and pay low deposits from just £100 per person or £250 per family (2 adults and up to 4 children). Book online for further discounts from Thomson.
An overview of India weather
Expect a hot, tropical climate when visiting India with variations from region to region. If you like temperate conditions, go in the winter when evenings and mornings are cool and crisp and days dry and sunny. Between April and June, in the run-up to the monsoon season, conditions can be insufferably hot and dusty. June to September is the monsoon season when you should brace yourself for heavy rain. However, this should only be taken as a broad guide to a country where local conditions differ greatly from place to place.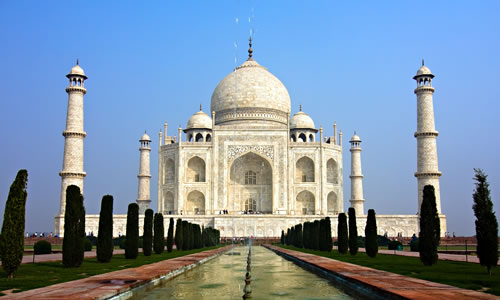 The Taj Mahal Mausoleum, Agra in India © ErickN
In the Himalayas, winter conditions are cold and wet with heavy snow while mid-summer is unpleasantly hot. On the northern plains of India, extending from Amritsar in the west to Calcutta in the east, you'll find a climate of extremes. To the east, hot and thundery summer weather between March and June is followed by a very oppressive monsoon season when extremely high humidity makes life unpleasant. To the west, (Rajasthan) and northwest of Delhi, desert conditions prevail and summers are drier. The winter months (December to February) bring crisp, sunny weather by day but nights are chilly.
The best time to visit the extreme northeast of India (Assam) is late autumn or spring. At these times, the weather is warm, dry and sunny. For the entire summer, Assam is a washout, literally, with tumultuous rains making life unbearable. ill Take light clothes for the daytime, warmer attire for the evenings and, if you must go in the summer, good waterproofs!
On India's central plateau, temperatures are slightly lower and conditions are, therefore, more pleasant during the hot season. However, the monsoon rains can be intense.
The west coast of India, which includes Mumbai (Bombay) and Goa, consists of a narrow coastal plain rising to steep mountains, the Western Ghats. During the winter and spring (November to April) daytime temperatures are warm and sunny and humidity is at its lowest. In the hot season, conditions can be unbearable unless you go way up into the hills and very heavy monsoon rains fall from June to September. In the southwest, the big rains come earlier and summers are cooler than in the north. High humidity can make conditions stifling except on the coast where the stickiness is dissipated by sea breezes.
The southeast of India receives its rains in the late autumn, from October to December, and has hot, muggy weather throughout the year. The only relief is to be found in the cooler hill region but, here, winter temperatures can fall very low and warm clothing is recommended.
Map of India
Select a destination from the India Map to view the holiday weather guide. Alternatively, select from the list of destinations below the map. Can't find the India weather destination you are after? Try the Destination Search.
Agatti Island Agra Ahmadabad Ajmer Amritsar Aurangabad Bandhavgarh Bangalore Bikaner Calcutta Chandigarh Chennai Cochin Darjeeling Dharamsala Gangtok Hyderabad Jaipur Jaisalmer Jodhpur Kalimpong Kanha Kaziranga Khajuraho Leh Lucknow Madurai Mahabalipuram Mangalore Mount Abu Mumbai Mysore Nagpur New Delhi Ooty Panaji Patna Pelling Pondicherry Port Blair Puri Ramnagar Ranthambore Rishikesh Shillong Shimla Srinagar Surat Udaipur Varanasi Visakhapatnam
India weather by month
Check the weather for a particular month in India by selecting a month from the list below. Alternatively check which month usually has the Best Weather in India. If you are not sure where to go, why not try our Holiday Planner.