Rhodes Weather
Check on the weather in Rhodes before you book your holiday. Whatever kind of trip you are planning, take a look at today's temperature, the outlook for tomorrow and what the weather is usually like at this time of year. The weather guide shown below is for Rhodes Town. Read more
Usually
Current
Outlook

in March

Now

Tomorrow

View Rhodes
Weather by Month
View Rhodes
Weather Today
View Rhodes
5-day Forecast




Save up to 60% on selected villa holidays in April 2015
Minimum of 2 people for 7 nights stay or more
Travel between 1st April and 30th April 2015 (inclusive)

Expires at 23:59 on Monday 30th March 2015
An overview of Rhodes weather
Rhodes, the gateway to the Dodecanese islands in the southeast corner of the Aegean, claims to be the sunniest of the Greek islands and its 'summer season' extends well into October. The sea stays warm enough to swim in until early November but winter, when it comes, is sharp, bringing a rapid rise in winds and fall in temperature.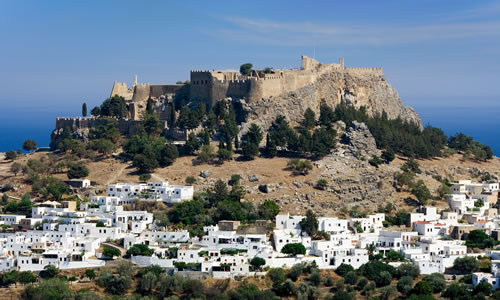 Lindos and the Acropolis, Rhodes, Greece © Jozsef Szasz-Fabian
Although the climate is still fairly mild in the winter, the strong winds bring a chill to the air and, even in the height of summer, their ferocity can be annoying to beach-bound holidaymakers, although they do make this one of the most popular Greek islands for sailors.
What to pack for Rhodes weather
Light clothing with a windcheater for blustery days is fine in the summer months. Take warmer clothing if you are travelling later in the year or in early spring.
Map of Rhodes
Select a destination from the Rhodes Map to view the holiday weather guide. Alternatively, select from the list of destinations below the map. Can't find the Rhodes weather destination you are after? Try the Destination Search.
Afandou Faliraki Gennadi Haraki Ixia Kalathos Kalithea Kiotari Kolymbia Koskinou Kramasti Lardos Lindos Pastida Pefkos Rhodes Town Tholos Trianda
Rhodes weather by month
Check the weather for a particular month in Rhodes by selecting a month from the list below. Alternatively check which month usually has the Best Weather in Rhodes. If you are not sure where to go, why not try our Holiday Planner.