Sharm el Sheikh Weather
By Colin Carter
Sharm el-Sheikh weather is generally very sunny even in the middle of winter which makes this place on the south-eastern shores of the Sinai Peninsula in Egypt such a popular beach resort. The weather guide shown below is for Sharm el Sheikh. Read more
Usually
Current
Outlook

in March

Now

Tomorrow

View Sharm el-Sheikh
Weather by Month
View Sharm el-Sheikh
Weather Today
View Sharm el-Sheikh
5-day Forecast




Save on holidays to Sharm el Sheikh with Thomas Cook
Book family breaks, last minute deals and all inclusive holidays
Look out for low deposits and the price match guarantee
An overview of Sharm el-Sheikh weather
Sharm el-Sheikh has its own international airport and there are now over 200 hotels on or within a short distance of the shores of this Red Sea destination, many of which are very large and half of which have 4 or 5 star ratings.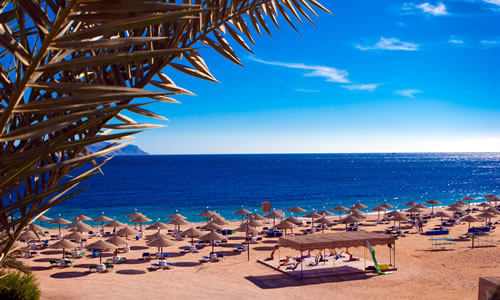 Sharm el-Sheikh, Red Sea, Egypt © Birute Vijeikiene - Fotolia.com
The main attraction of Sharm el-Sheikh is its sunshine, sandy beaches and clear waters with some of the best diving in the world. The prevailing wind blows offshore from the north-east year-round, which means that conditions at sea are generally also calm along the 50 kilometre coast from Ras Mohammed to Nabq. As with all of Egypt the area has a hot desert climate with very little rain and very high temperatures in summer.
The summer months from June to September are generally regarded by divers as the best time to go to Sharm el-Sheikh because it is less crowded. At this time of year the sun is particularly fierce and daytime temperatures can easily reach the high 40s Celsius. Sharm el-Sheikh weather at the height of summer is not that pleasant for a beach holiday even though humidity levels are not that extreme.
By contrast the winter months between December and March are quite a bit cooler and there is still practically wall to wall sunshine. Sharm el-Sheikh is located on the Red Sea but it is right in the north and well outside the tropics. Sea temperatures can drop to 20°C and air temperatures to as low as 10°C at night.
However there are plenty of other activities to be enjoyed apart from swimming in the sea, such as trips into the desert on a camel safari or on horseback, quad biking, stargazing at night; many hotels also have their own tennis courts.
Daytime temperatures in winter are a pleasant 20°C at least at sea level and there are usually 8 hours of sunshine a day. Be prepared for colder and cloudier conditions if you are travelling into the mountains at this time. Snowfall is common around St Catherine which is 1,586 metres (5,203 ft) above sea level.
The best time to visit Sharm el-Sheikh is probably in the autumn from the middle of September to the middle of November when sea temperatures are just off their warmest but still around 25°C to 27°C. At this time of year daytime temperatures can still reach 30°C but heat and humidity is generally only moderate, and UV radiation is decreasing. Expect around 10 hours of sunshine a day.
Alternatively during April to May the weather as almost as good. Air temperatures and sunshine hours are similar to the autumn but the sea is quite a bit cooler at 23°C to 24°C. By the end of May the sea has usually warmed to around 25°C but for some people daytime temperatures may by then already be too hot.
Rainfall is a rare event at any time of year in Sharm el-Sheikh though more common in winter. Once every few years a storm will bring torrential rain followed by flooding. Due to high levels of construction in recent years, including many new roads, Sharm el-Sheikh is particularly prone to flash floods. In January 2010 many resort areas were under water for up to two days and parts of beaches washed away.
Sandstorms can occur at almost any time of year but are more common in March and April when Khamsin winds blow from the south-west off the Sahara Desert interrupting normal weather conditions for a day or two.
What to pack for Sharm el-Sheikh weather
Very light clothes, sunglasses and a hat are recommended for the summer. To account for high levels of air-conditioning indoors, an extra layer might be useful. Heat is not a problem during winter while evening temperatures will definitely call for a jacket or cardigan; such is the variability of Sharm el-Sheikh weather.
Map of Sharm el-Sheikh
Select a destination from the Sharm el-Sheikh Map to view the holiday weather guide. Alternatively, select from the list of destinations below the map. Can't find the Sharm el-Sheikh weather destination you are after? Try the Destination Search.
Hadaba Naama Bay Nabq Ras Nasrani Shark's Bay Sharm el Maya Sharm el Sheikh
Sharm el-Sheikh weather by month
Check the weather for a particular month in Sharm el-Sheikh by selecting a month from the list below. Alternatively check which month usually has the Best Weather in Sharm el-Sheikh. If you are not sure where to go, why not try our Holiday Planner.
Colin Carter on Google+
comments powered by

Disqus