Sharm el Sheikh Weather
If you're thinking of booking a holiday to Sharm el Sheikh but you're not sure when to go, you've come to the right place. Read on to find out Sharm el Sheikh weather throughout the year, as well as some suggestions for the best time to visit based on various preferences. The Sharm el-Sheikh weather guide shown below is for Sharm el Sheikh.
Metric (°C / mm) | Imperial (°F / inches)
More about Sharm el-Sheikh
Exclusive
Save an extra £40 on holidays to Egypt
Minimum spend £700 - 7 nights or more
Expires at 23:59 on Friday 17th July 2015
Sharm el Sheikh weather: an overview
Located towards the southern tip of Egypt's Sinai Peninsula, Sharm el Sheikh has long been a favourite with holidaymakers after reliable hot and sunny weather. Sandwiched between the rising rugged landscape and the Red Sea coast, it's known for its warm turquoise waters, well equipped beaches, and dry, desert-like climate. Sharm el Sheikh weather guarantees plenty of sunshine all year round, which make for ideal holiday conditions within easy reach of the UK.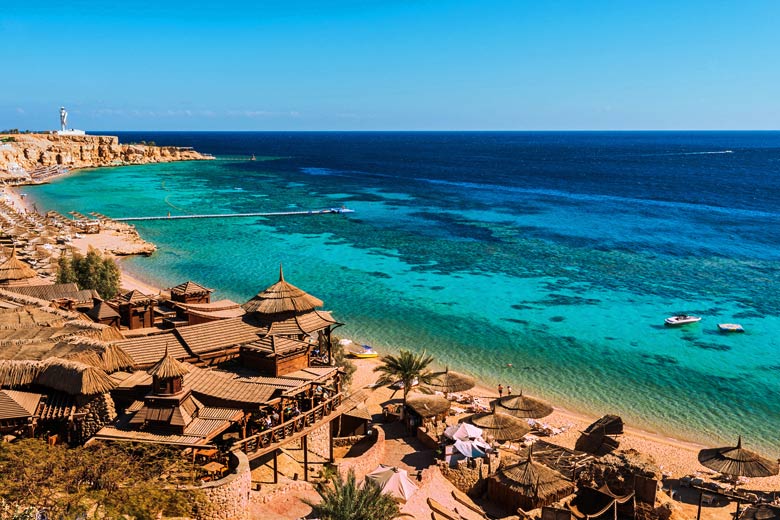 The Red Sea is popular thanks to its calm nature - great for kids - and plentiful swimming opportunities, but there is more to Sharm el Sheikh: many people come to immerse themselves in the range of outdoor activities, such as diving, camel trekking, quad biking and camping under the stars. Then there's the shopping, water sports and chance to visit St Catherine's Monastery and climb Mount Sinai for the ultimate historic hike.
Whatever gets you to there, you can rest assured that you'll almost certainly have good weather in Sharm el Sheikh, but just how hot and how sunny will vary according to the time of year. With two distinct seasons, summer and winter, Sharm el Sheikh weather is relatively straightforward, it's just about finding the right time to visit that suits you.
Sharm el Sheikh's summer
The summer months see the hottest temperatures of the year when it comes to Sharm el Sheikh's weather, ranging from the low thirties to the mid forties between June and September. Understandably, when temperatures start to peak around July and August, it can be unbearable - not to mention dangerous for sunbathing - which is why it is the quietest time.
During this time, Sharm el Sheikh's weather provides great conditions for diving enthusiasts who happily take advantage of the warm waters and more peaceful resorts during this period. Days are long, with between 11 and 13 hours of sunshine from June to September, while evenings are very warm and pleasant.
As you might expect, there is high heat and humidity, in particular during July and August. On occasion, high temperatures can couple with a very high or even extreme levels of heat and humidity, which can makes things incredibly uncomfortable, however, this is relatively rare.
The good news for those thinking of taking on Sharm el Sheikh's weather in the summer is that a north wind often blows down through Sharm el Sheikh from the Mediterranean, which helps to regulate the temperatures, bringing fresh air and a welcome cooling breeze.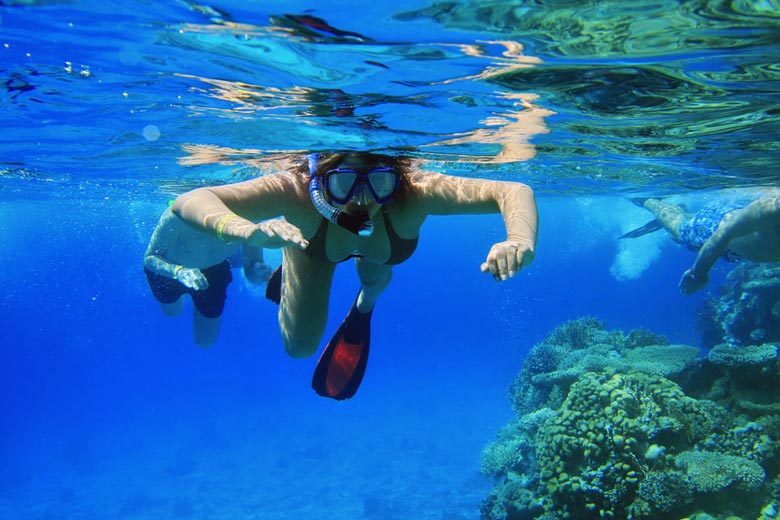 As for the sea, Sharm el Sheikh's weather spends the early part of summer warming the waters around the coast, with temperatures rising from around 23°C in April to 28°C by the end of August and into September. The steady increase makes a significant difference, with inviting temperatures making swimming, water sports or even a good splash about much more enjoyable than in the preceding winter months.
If you're planning a holiday in summertime count on it being very hot with lashings of sunshine, balmy sea temperatures, and high heat and humidity, which means you need to drink plenty of water, slap on the SPF, and invest in a good sunhat to avoid burning, as the sun's rays are especially strong at this time.
Sharm el Sheikh's winter
Sharm el Sheikh's weather provides ideal winter sun conditions for many, with days graced with ample sunshine and temperatures comparable to Gran Canaria. Deciding if this is the right time of year for you to visit very much depends on what you want to do.
Thanks to its desert climate, Sharm el Sheikh's weather is never what you would call 'cold'. It hardly ever drops much below 20°C, even in January, officially the coolest month of the year. By March and into April things are already heating up once more, climbing quite rapidly from around 24°C to 28°C, although evenings remain cool so layers are recommended.
The only downside to visiting at this time is that the sea hasn't yet caught up with the air temperature. While days stay long and sunny enough to enjoy the great outdoors - even in December and January you're likely to see around eight hours of sunshine - you might want to avoid the sea as the temperature dips significantly from November to May.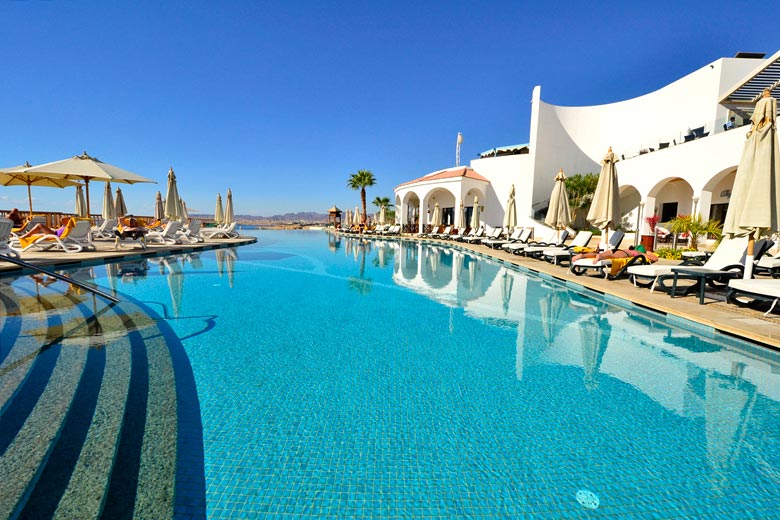 While October remains perfect for swimming at 27°C, it drops continuously until February and March, which are positively cold at 21°C, before starting to climb again in April to 23°C. Put simply, if you're planning on making the most of the ambient Sharm el Sheikh weather for some winter sun, be sure to book a hotel with a heated pool, as the sea is likely to be a little too chilly for you to really enjoy.
It hardly ever rains in Sharm el Sheikh, but if the grey clouds do roll in it tends to be between January and March, and is usually a passing shower. There's nothing more than a slim chance of seeing torrential rain during this time, but if you do encounter this, watch out for flash flooding which can quickly occur.
April sees the dry Khamsin wind blowing in from the west, which kindly brings the Sahara to you, along with plenty of dust and the only real chance of a sandstorm, although there's no certainty about this year-on-year, especially when compared to other destinations in Egypt, such as Aswan or Cairo, which experience these storms more frequently.
Sharm el Sheikh weather: summary
Anytime between April and June is especially good to visit as Sharm el Sheikh weather is heating up with loads of sunshine on offer. The only downside is that the sea isn't as warm as it becomes in later months after benefiting from the intense summer sun. Unless you're a big fan of extreme heat, it's best to avoid Sharm el Sheikh during July and August, while September is another excellent month. Although temperatures remain high, they don't have the same aggression as in August, and the sea nice and toasty with ample sunshine to boot.
Sharm el Sheikh is also a much loved winter sun destination, just don't pin your hopes on experiencing warm waters between November and March. When deciding on the best time to visit it really depends what Sharm el Sheikh weather you're after - the choice is yours!
Looking for more information about Sharm el Sheikh weather in 2015/2016? Visit the climate page for annual averages and five day forecast for the week ahead. If you're looking for a great deal to get you there, don't miss our dedicated Sharm el Sheikh holidays page.
Sharm el-Sheikh weather by month
Check the weather in Sharm el-Sheikh for a particular month by selecting from the list below.
Get FREE travel offers
Sign up to receive the latest deals and exclusive discounts on holidays, flights, hotels and more, plus inspiration on where to go when
We promise not to share your details