Cyprus weather overview for 2016 holidays
OverviewClimateBest monthForecastCurrentCompare
Holiday dealsMore destinations
JanFebMarAprMayJunJulAugSepOctNovDec
Cyprus's weather has long made it a much loved holiday destination, and one that's accessible and enjoyable for longer than most other places in the Mediterranean. If you're thinking of booking a holiday to Cyprus, and want to know more about Cyprus weather in 2016, read on to for a full breakdown of conditions by season, as well as for tips on when to go and what to pack. The Cyprus weather guide shown below is for Paphos. Read more about the weather in Cyprus.
Metric (°C / mm) | Imperial (°F / inches)
Discount Code
Save up to £400 per couple on summer holidays to Cyprus
1,000's of kids places available on all inclusive holidays
Extra £40 off per person - minimum spend £1,000
Travel between 1st May & 31 Oct 2016 (inclusive)
Popular Cyprus destinations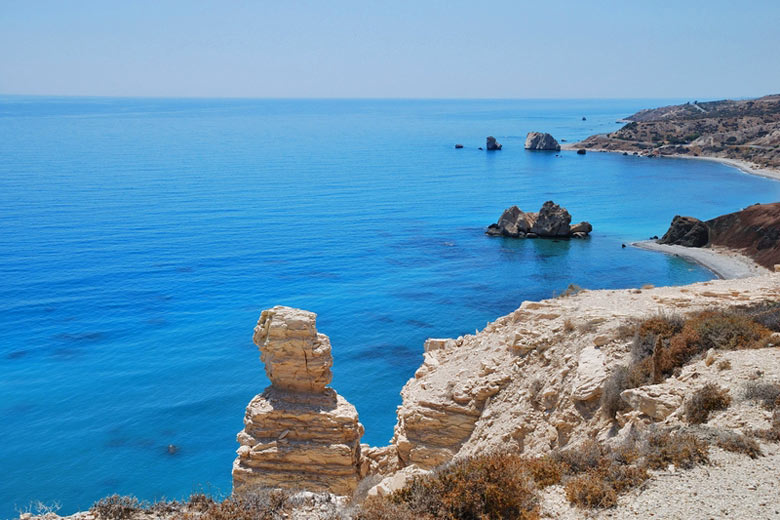 Cyprus weather 2016: an overview
Cyprus is an island nation in the eastern corner of the Mediterranean Sea, less than 60 miles from the coast of southern Turkey. While its size is comparable to Crete, if just a little bigger, it has a character all of its own, not to mention an incredibly colorful history.
This gives holidaymakers visiting the island to enjoy Cyprus's weather plenty to see and do, from exploring the abundance of natural beauty on land and at sea, to visiting ancient ruins, museums, markets, and sampling the local cuisine (halloumi, anyone?). From the cooler climes of the Troodos Mountains, down through the pretty winding cobbled streets of hilltop villages towards the fine sandy beaches on the coast, Cyprus is one diverse destination.
Importantly, thanks to Cyprus's weather, it's also one of the most reliably good destinations within five hours of the UK from May to October in the Med. While Cyprus's weather includes four familiar seasons, in reality spring and autumn are very short, with summer and winter the more dominant and distinct times of year. This gives a very clear window for when is the best time to visit. Read on to discover more about Cyprus weather throughout the year.
Cyprus's spring
Cyprus's short spring provides a brief transition from the cold conditions of the winter months into the positively hot weather of summer. It's the first real time of year that holidaymakers can start to enjoy Cyprus's weather, although there are things to watch out for.
While daytime temperatures sit between 21°C and 24°C with between nine and 10 hours of sunshine, evenings are chilly, falling as low as 12°C in April and 15°C in May. There is virtually no heat and humidity in Cyprus's weather in spring, and sea temperatures are less than pleasing maxing out at 18°C in April and 20°C in May. This means a hotel with a heated pool is thoroughly advisable if you plan on making the most of the sunshine during this time.
There is a slim chance of seeing some rain, although nothing like the volume seen during the preceding winter months. Generally speaking, Cyprus's weather during spring makes it the first place in the Med which starts to warm up, something destinations further west, such as the Algarve or the Balearics can't compete with.
Cyprus's summer
Summer in Cyprus is all about hot and sunny weather. Conditions are dry with barely a day's rain, and temperatures easily reach at least 30°C, although this does depend somewhat on your location. If you're inland, say near Nicosia, you'll find it's generally up to five degrees hotter than by the coast, while if you're high up in the Troodos Mountains it's almost always around five degrees cooler than by the coast, something to bear in mind.
There is a high level of heat and humidity during this time, not to mention very high UV levels, so it's important to stay protected with a good SPF. Cyprus weather in summer also guarantees long days, with between 11 and 12 hours of sunshine, and balmy evenings rarely dropping below 21°C.
There is a cooling effect in coastal regions from a light north to northwesterly onshore breeze, which can provide some welcome relief. Unlike some areas of Greece and eastern Turkey, Cyprus weather isn't directly affected by the gusty Meltemi winds during summer.
Cyprus is also blessed with some of the warmest waters in the Mediterranean, which steadily heat up as summer goes on, reaching an inviting 27°C by August compared to around 24°C in early June. As a general rule of thumb, the waters tend to be slightly warmer in the east, near resorts such as Ayia Napa and Protaras, than in the west, towards the likes of Paphos.
The only potential issue with Cyprus's weather in the summer months is that some people can find the heat a little too much in July and August, but this really is down to personal preference, and just how hot you like it. Overall, the summer months are dry, hot and incredibly popular with all sorts of holidaymakers from families to groups.
Cyprus's autumn
As with spring, autumn is a short season in Cyprus's weather cycle. Having spent the summer months baking nicely under the Mediterranean sun, it's really only from the end of September to the end of October that Cyprus's weather starts to change significantly.
Temperatures begin to dip from 29°C in September to 25°C by October, although this is still warm enough for a beach break for many, especially those who don't love the searing heat of summer. The same decrease applies to evening temperatures that drop to around 19°C after dark in September and a nippy 16°C in October, so packing layers is key at this time.
Crucially, Cyprus's weather from September onwards sees a drop in sea temperature sinking to 24°C in October. While some may find this warm enough to continue swimming and doing water sports, it's worth staying in a hotel with a heated pool.
Sunshine hours also take a hit, from 10 hours each day in September to eight by October. Cyprus's weather also loses the heat and humidity, becoming almost non existent, while the chance of seeing some rain increases from October.
October tends to be the last month of the year when you can experience the best of Cyprus's weather. The half term holiday is often the final big push for holidaymakers to the island, keen to make the most of the last truly warm and sunny place in the Med within easy reach of the UK at this time.
Cyprus's winter
The winter months are not the island's best weatherwise. December and January tend to be the wettest months, while January and February are regarded as the coolest, with temperatures by the coast rarely rising above 17°C. Inland, things get even chillier, while high up on Mount Olympus in the Troodos Mountains, you could even don a pair skis and try out the island's only ski resort. Evenings are noticeably cool, maxing at about 8°C in January, and the sea is a no-go zone at a cold 18°C during the same period.
Cyprus's weather in winter does maintain a credible amount of sunshine, seeing up to five hours each day during December and January, compared with one or two hours during that time in the UK. As this is the cloudiest time of year, it also sees the most rainfall, peaking with up to 14 days with some rain in January.
While the warm weather continues to decline from the beginning November onwards, conditions in February are very similar to January, and March is only flirting with the idea of turning a corner. It isn't until April and the onset of spring that Cyprus's weather starts to see major improvements in conditions all round.
Cyprus's weather: summary
Cyprus is a great place to go between May and October with something for every holidaymaker. However, within this period there are three separate types of weather to choose from. Whether you're after the warm fresh conditions of May and June, the relentless reliable heat of July and August, or the balmy days and nicely warmed waters of September and October, deciding when to go for the best Cyprus weather really depends on you.
What to pack
Light clothes and beachwear are essentials between May and October, as are layers if you're planning on sitting outside during the evenings either side of June to August. It's also advisable to take warmer clothes if you're hoping to venture into the mountainous region, while Cyprus weather in the winter months demands something rainproof and plenty of warm clothes.
Looking for more information on Cyprus weather in 2016? Check out the climate page for annual details, or visit the five day forecast to see the weather for the week ahead. If you're hoping to book a cheap holiday to Cyprus for yourself, don't miss our dedicated holiday page with all the latest deals.
Cyprus weather map: Select a destination
Select a destination from the Cyprus weather map below to view the individual holiday weather guide. Can't find the Cyprus weather destination you are after? Try the destination search.
Compare Cyprus weather with the United States
Below the Cyprus weather chart shows maximum daytime temperature for Cyprus (Paphos) and the USA (Washington). For more weather parameters or to change the destinations shown visit the comparison weather tool.
Maximum daytime temperature (°C)
Cyprus (Paphos)
USA (Washington)
Jan
Feb
Mar
Apr
May
Jun
Jul
Aug
Sep
Oct
Nov
Dec
Metric (°C / mm) | Imperial (°F / inches)
Compare more Cyprus weather >>
Discount Code
Save up to £400 per couple on summer holidays to Cyprus
1,000's of kids places available on all inclusive holidays
Extra £40 off per person - minimum spend £1,000
Travel between 1st May & 31 Oct 2016 (inclusive)
Cyprus weather by month
Check the weather in Cyprus for a particular month by selecting from the list below.
Get FREE travel offers
Sign up to receive the latest deals and exclusive discounts on holidays, flights, hotels and more, plus inspiration on where to go when
We promise not to share your details