Where to go on holiday in November 2014 for the best hot and sunny weather
By Jonathan Nigel updated on 31st October 2013 in Destinations and Holidays
If you're thinking of taking a break before Christmas and wondering where to go on holiday in November for warm and sunny weather, take a peek at our selection of destinations with the best holiday weather at this time of year.
November is a tricky time of year to go on holiday thanks largely to cooling temperatures in Europe, the wet season in Asia and the occasional tropical storm in the Caribbean. Your chances of finding really warm weather anywhere in Europe, even in the Mediterranean are slim, and if you're thinking of hopping on a long-haul flight, bear in mind that it's still too wet in Thailand and too hot in Goa to seriously consider these destinations either.

Where to go on holiday in November for warm and sunny weather © and.one - Fotolia.com
But don't despair! We have some great destinations to share which are sure to give you some warmth and enjoyment before returning to the chill of winter and the onset of all things festive.
1) Red Sea, Egypt
Egypt experiences some excellent weather in November and is undoubtedly the nearest destination from the UK where you can expect to feel any real heat. In summer the beach resorts on the Red Sea, including Sharm el Sheikh, are really far too hot, and from December to April a little on the cool side, so autumn is a great time to visit.
Daytime temperatures rise to the mid to high twenties with nine to 10 hours of sunshine per day, and sea temperatures of around 25°C. This is perfect beach weather and the further south you go the warmer it will be; for example, Marsa Alam or El Quseir.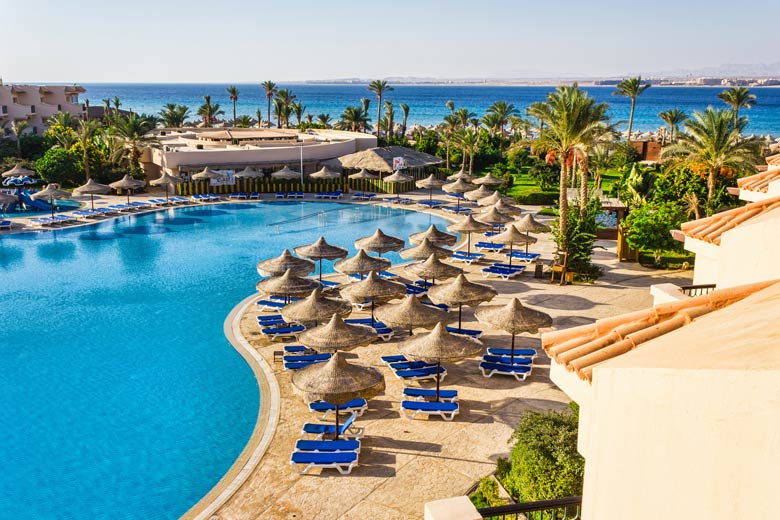 Hotel on the Red Sea © Oleg Zhukov - Fotolia.com
With the current political unrest in Egypt, it's best to keep an eye on British Foreign Office advice. Currently it states that the Red Sea area is safe, although other parts of Egypt are not. As some tourists are steering clear, many hotels are operating at half capacity, so there are definitely some excellent deals to be found. Check the FCO website before booking.
Back to Top
2) Cape Verde Islands
The second closest destination with reliable beach weather in November is Cape Verde off the west coast of Africa. Cape Verde is about 1,000 miles south of the Canary Islands. This collection of volcanic islands which are smaller than but quite similar to the Canaries is well within the tropics but surrounded by a relatively cool ocean.
It's warm and sunny in November, with around seven hours of sunshine per day, little to no chance of any rainfall and warm sea temperature of about 25°C. Temperatures rarely fall below 20°C, even at night, rising to high twenties during the day.
Thomson has some very well chosen all-inclusive hotels in Cape Verde on the islands of Sal and Boa Vista; Sal is the more developed island, though prone to more windy conditions than Boa Vista.
Back to Top
3) Canary Islands, Spain
The Canary Islands consistently have some of the best weather in the world. The temperature of the surrounding ocean, which only varies by a few degrees throughout the year, keeps the islands cool in summer and warm in winter; in fact they are more popular as a holiday destination in winter than summer.
Temperatures in Gran Canaria and Tenerife in November usually range from 18°C at night to 24°C in the afternoon with an average of six hours of sunshine a day, while the sea temperature is usually around 21 - 22°C. The Canary Islands is the closest warm weather destination to the UK in November but it is not as warm as the Red Sea or Cape Verde.
Some hotels advertise heated outdoor pools but our research shows that they are not always as warm as people would like. Also hotel pools that are not heated are always colder than the sea. When the temperature drops at night pools loose their heat very quickly and don't recover it during the day.
Nevertheless if you're thinking of going to the Canary Islands in November you will certainly find plenty of warm weather and sunshine, and there are many other things to do in the Canaries including hiking and walking.
Back to Top
4) Cyprus
The best conditions in the Mediterranean in November are usually found in Cyprus, but even it's prone to periods of wind and rain from November onwards, meaning it can be unsettled.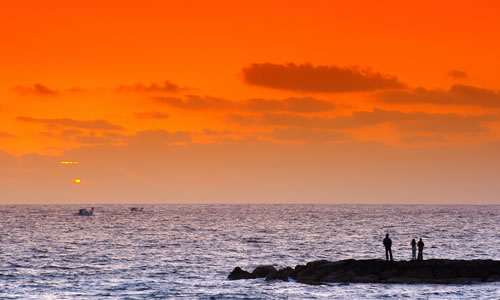 Cyprus sunset © hassan bensliman - Fotolia.com
You can expect seven hours of sunshine a day on average, and daytime temperatures reaching a maximum of around 23°C falling by a good 10°C overnight but generally not below 10°C. It's a great time to visit for all kinds of outdoor activities but perhaps not those with a heavy beach focus as the sea temperature is a cool 22°C.
Back to Top
5) Dubai, UAE
Further east, Dubai has some of its best annual weather in November and is certainly a prime contender for where to go on holiday in November for warm and sunny weather. Daytime temperatures should still rise into the thirties, but heat and humidity remains moderate. Sea temperatures are warm at 28°C and you can expect nine hours of sunshine a day.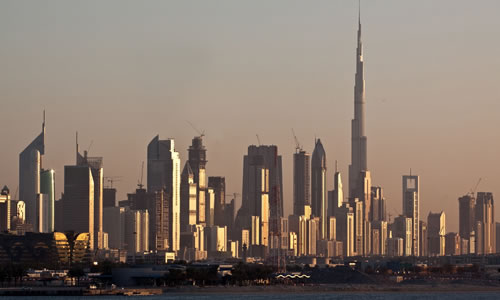 Dubai skyline, United Arab Emirates © Aguaviva - Fotolia
A number of hotels in Dubai have their own beaches and there are plenty of beach clubs which you can visit for the day. These obviously cost money; however, the facilities they offer are extensive, including multiple swimming pools, restaurants, bars and even tennis courts. But you don't have to pay to enjoy the beach in Dubai - there are also public beaches, notably at Jumeirah Beach Residence known locally as JBR Beach.
There are direct flights to Dubai from five UK airports and the flight time is between seven and eight hours, so it's very easy to get to; airfares are also very reasonably priced.
Back to Top
6) Mombasa Coast, Kenya
The shores of the Indian Ocean in Kenya are not quite as accessible as Dubai but offer a much more natural setting where the skyline is dominated by palm trees instead of concrete high-rise buildings.
During November much of Kenya experiences a short rainy season but the Mombasa Coast is largely unaffected. Instead you can expect beautiful blue skies with nine hours of sunshine a day on average, and temperatures rising to over 30°C. The sea in November is a delightfully warm 28°C.
Thomson has a weekly direct flight to Mombasa from Gatwick which is the fastest way to get there. Otherwise you will need to change in Nairobi.
Back to Top
7) Mauritius
Other Indian Ocean hot spots such as Goa, Kerala, Sri Lanka and the Maldives don't become truly excellent until after the New Year, but by November Mauritius has usually started to warm nicely with eight hours of sunshine a day and temperatures rising to the high twenties most days. Even though it's the beginning of the wet season November is one of the sunniest months of the year in Mauritius.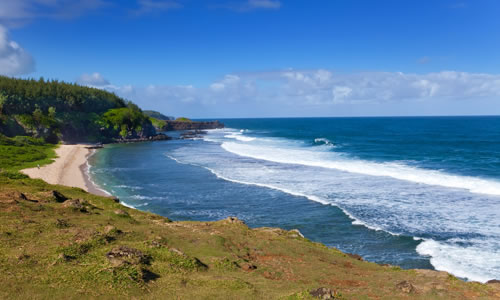 Beach on the south coast of Mauritius © Konstantin Kulikov - Fotolia.com
Back to Top
8) Cape Town, South Africa
Finally if you're looking to maximise the number of hours of daylight on your holiday you'll have to cross the equator and travel further south. Cape Town in South Africa is 12 hours by air from the UK and has daytime temperatures in November in the mid-twenties with an impressive 14 hours of daylight, 10 of which offering bright sunshine.

Camps Bay, Cape Town © Worldwide Pictures - Fotolia.com
November is the beginning of summer in the Western Cape so there's plenty of new growth and flowers in bloom. The beaches around Cape Town are beautiful but the water is cold at just 17°C. The sea is always cold here because of a cold current that flows north into the Atlantic from Antarctica.
However, there is so much to do away from the beach, from visiting the Wine Lands in the north east or renting a car and travelling down the Garden Route. Whatever you plan, British Airways has some great deals during November.
Back to Top
Do you have other ideas about where to go on holiday in November? Where have you been previously and what was the weather like? Let us know below or tweet us at @weather2travel to join the conversation...
Jonathan Nigel on Google+