Where to go on holiday in February 2015 for the best hot and sunny weather
By Jonathan Nigel updated on 2nd February 2013 in Destinations, Holidays, Weather & Climate and Where to go on holiday
As if anyone needed reminding, February is the coldest month in Northern Europe with little in the way of sunshine. But some parts of the Northern Hemisphere have their best weather at this time of year, so if you are wondering where to go in February the good news is you probably won't have to cross the equator to find the weather you want and some true 'Winter Sun' on your holiday.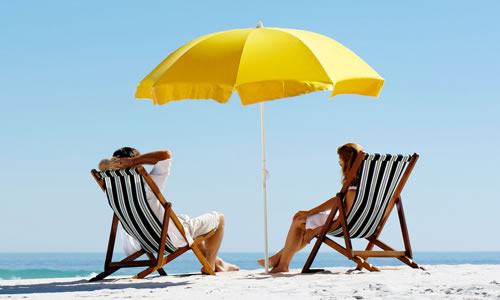 Where to go in February 2015 - Winter Sun Holidays © Warren Goldswain - Fotolia.com
1) Egypt - The Red Sea and the Nile
The nearest warm holiday destination with plenty of guaranteed sunshine is Egypt. The Red Sea has plenty of sunshine in February, but it is a little cool at this time of year for a beach holiday with sea temperatures and maximum daytime air temperatures at Sharm el Sheikh only reaching the low twenties Celsius.
However inland at Luxor daytime temperatures reach an average of 25°C and there are 10 hours of sunshine. And if you fancy a little cruise down the Nile from Luxor to Aswan it is a degree warmer there. February is an ideal month to visit the historic antiquities of these two destinations because the skies are blue and it is not too hot.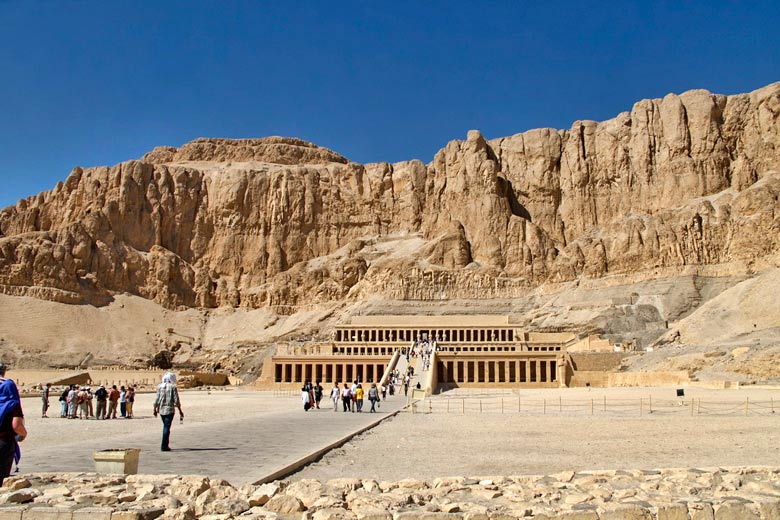 Temple of Hatshepsut near Luxor © Mirek Hejnicki - Fotolia.com
There is a great choice of hotels and restaurants in Luxor and plenty of other activities such as hot air ballooning and desert safaris. Many of the hotels also have heated swimming pools. The flight time from Gatwick to Luxor is 5.5 to 6 hours.
2) The Gambia
The nearest beach destination to the UK with a tropical climate is the small West African state of Gambia which has been a popular winter getaway since it was discovered by Swedes in the late 1960's. It is also very popular with bird watchers, and can be reached from the UK in 6 to 6.5 hours. Monarch and Thomas Cook fly there.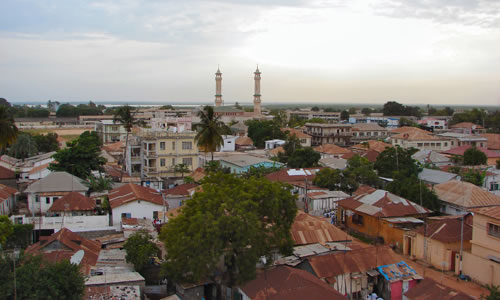 Banjul, Gambia. View of the town © Bjørn Christian Tørrissen
In February it is hot with an average of 9 hours of sunshine and daytime temperatures rising well into the thirties Celsius. Sea temperatures are a little cool for a destination less than 1,000 miles from the equator, so brace yourself if you are planning a dip in the sea which can also be quite dangerous when it is rough.
3) Dubai, United Arab Emirates
Dubai is becoming increasingly popular as a holiday destination; it is almost an urban theme park itself with attractions such as the tallest building in the world, artificial islands and even indoor ski slopes in what would otherwise be a hot desert. It is a 7 to 7.5 hour flight to Dubai. Royal Brunei, British Airways, Emirates, and Virgin Atlantic all have direct flights.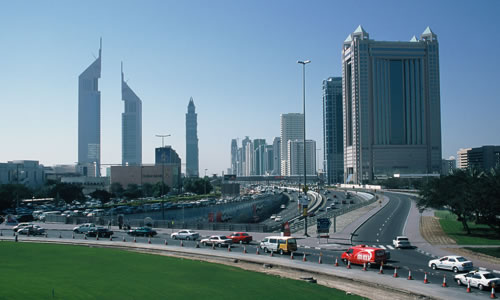 Dubai Skyline - photo courtesy of Dubai Tourism
The attraction in February is the relatively cool weather; temperatures range from 14°C at night to 25°C during the day with an average of 8 hours of sunshine a day - that's about the same as the south of France at the beginning of July, though not as sunny. You may even consider a dip in the sea, though for some people it is a little cool at around 22°C.
4) The Caribbean
Just a little further away in terms of flying time in completely the opposite direction is the Caribbean. The Lesser Antilles which includes Barbados, Saint Lucia and Antigua are the most easterly Caribbean islands and only an 8 to 9 hour flight from the UK.
They are also quite far south which makes them slightly warmer than those in the north. The weather is at its best in February with temperatures ranging from 20°C at night to as high as 30°C during the day.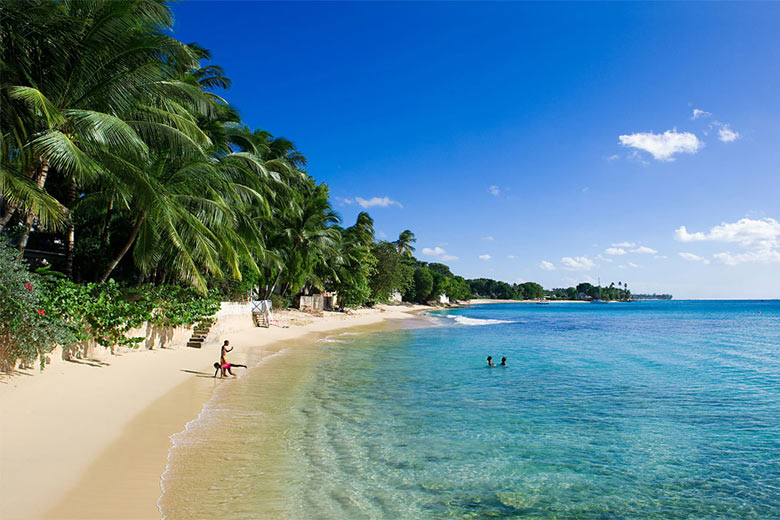 West Coast Barbados © Mike Toy courtesy of Barbados Tourism Authority
During the Northern Hemisphere winter the Caribbean experiences a short dry season, so your holiday is unlikely to be interrupted by rain during February. There is usually moderate to high heat and humidity, high UV and around 8 to 9 hours of sunshine a day. The sea temperature in February is normally a comfortable 26°C.
BA have some fantastic deals in February with direct flights to Antigua, St Lucia and Barbados. Virgin Atlantic also flies these routes.
5) India: Goa and Kerala
India also experiences a dry season during the winter with plenty of sunshine and high temperatures. The weather in Goa is as good as it gets in February with 10 hours of sunshine on average and temperatures exceeding 30°C at the hottest time of day.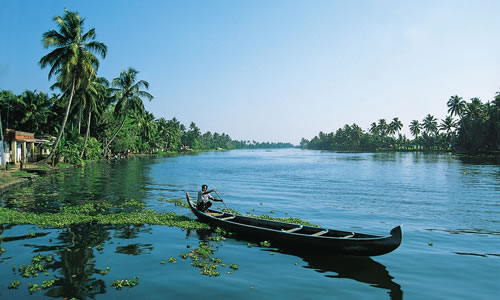 Kerala Backwaters, courtesy of India Tourist Office
Being that bit further south Kerala is hotter still with very high heat and humidity though not quite so much sunshine. At both destinations the sea is luxuriously warm at 28-29°C.
Flight time to Goa is between 10 and 10.5 hours, to Kerala it is another 2 to 3 hours at least because there are no direct flights.
6) The Maldives
The Maldives has some of its best weather in February with 10 hours of sunshine a day and temperatures in the high twenties to low thirties Celsius; there is not much variation in temperature from day to night because the surrounding sea is a warm 28°C.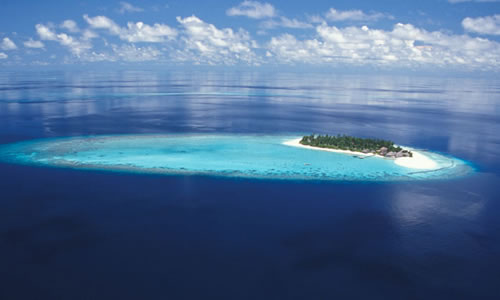 Typical island resort in the Maldives - Photo courtesy of visitmaldives.com
If you are unsure about where to go in February and you just want to lie on a beach the Maldives is the perfect Robinson Crusoe destination. Each island is pretty much self-contained, and apart from dive-boats there is very little inter-island traffic.
British Airways is the only airline that flies directly to Male from the UK with a 10-10.5 hour flight-time. Add another 3 to 5 hours if you need to change planes.
7) Sri Lanka
Sri Lanka has great weather in February especially in the south-west where most of the major resorts are located. There is only a small chance of rain and you can expect an average of 8 hours of sunshine a day.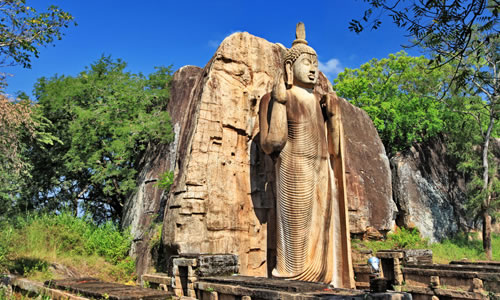 12 metres high statue of Buddha at Aukana © Freesurf - Fotolia.com
It is hot and humid with temperatures reaching 30°C on a daily basis, but on the coast sea breezes provide some relief from the heat and humidity. The flight time with Qatar Airways to Colombo is between 13 and 14 hours with one change in Doha.
8) Thailand
Thailand is another holiday destination where the Northern Hemisphere winter months are dry and sunny. February is the sunniest month of the year over much of Thailand and especially in the south of the country where the main beach resorts are located. It is hot and humid everywhere with little chance of rain.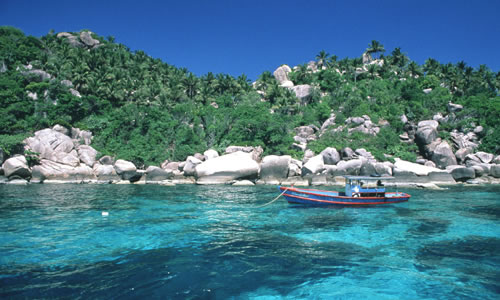 Crystal clear waters around Ko Samui - courtesy of Tourism Thailand
Generally the beaches on the Gulf of Siam such as Ko Samui and Hua Hin are a little less hot and humid than those on the Indian Ocean such as Phuket and Khao Lak. British Airways, Thai Airways and Eva Air all fly daily from London to Bangkok. The flight time is approximately 14 hours.
9) Cape Town, South Africa
February is the height of summer in Cape Town, South Africa, where it is sunny and warm but not too hot. The weather in February is similar to Bodrum in the middle of May or the South of France at the end of June. Expect 10 hours of sunshine a day and daytime temperatures in the mid to high twenties Celsius.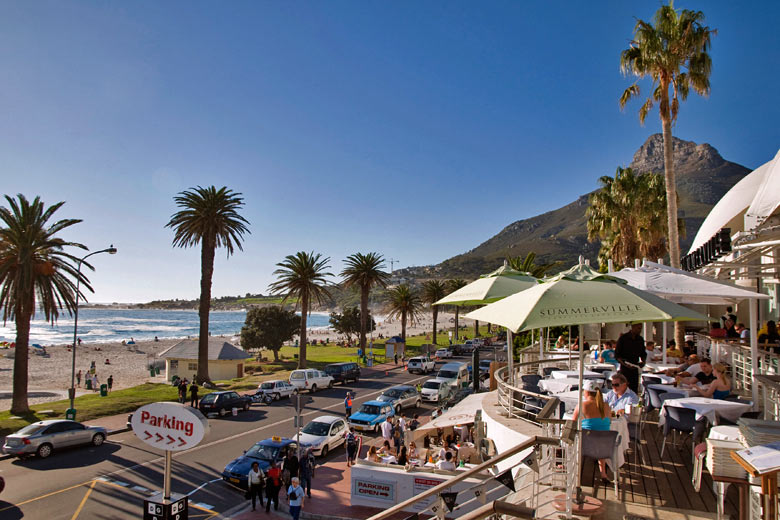 Camps Bay, Cape Town - courtesy of South African Tourism
There is a lot to do in Cape Town; you can also visit the nearby wine growing areas and journey up the coast towards Port Elizabeth where the sea temperature is a bit warmer.
British Airways and Virgin both fly this route with non-stop flights of 11 to 12 hours. There is also only a 2 hour time difference between the UK and South Africa in February.
10) Colorado, United States
If you are a skier, February is one of the sunniest months of the year in the mountains of Colorado; there are fewer daylight hours than during the summer but you can still expect 8 hours of sunshine a day during February.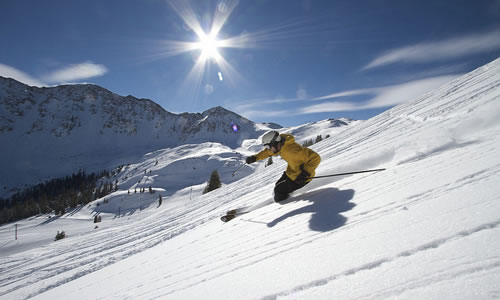 Arapahoe Basin, Colorado. Photo by Casey Day - courtesy of Visit Colorado
Every ski resort in Colorado has an extra hour of daylight each day in February compared with Austria and Switzerland and an extra 3 hours of sunshine per day. It is a 9 to 11 hour flight to Denver from London - perhaps this is not as far as you thought!
Where to go in February - Tell us about your trip
Have you already booked where to go in February? Let us know where you're heading for your winter sun holiday in February and join in the conversation.
Jonathan Nigel on Google+