Where to go on holiday in December 2014 for the best hot and sunny weather
By Jonathan Nigel on 6th December 2012 in Destinations, Holidays and Where to go on holiday
Those in search of winter sun holidays over Christmas and the New Year should be aware that you will find more sunshine and daylight in the Mediterranean, Canaries and Red Sea in December and January than in the UK, but if you are thinking of somewhere warm enough for a beach holiday, you should be looking at a long-haul destination.
Spain and Portugal
The holiday destinations nearest to the UK with some winter sunshine are places like Malaga, Benidorm and Ibiza in Spain, and the Algarve in Portugal. At all these destinations there should be between 5 and 5.5 hours of sunshine a day, but don't expect beach weather!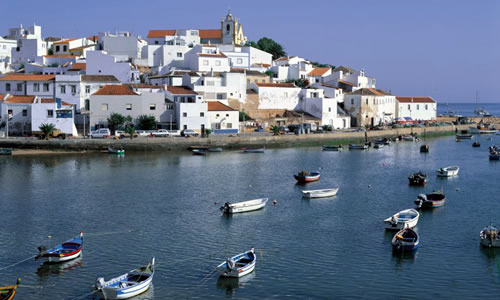 Ferragudo, Algarve - Courtesy of Algarve Promotion Bureau
You'll find temperatures on the cool side with daytime maximums only in the mid to high teens Celsius, so you will need a sweater and maybe even a coat. There are lots of bargains to be had from providers such as Jet2 holidays and lowcostholidays.com, but just remember you won't be lying by the pool or on the beach.
Back to Top
Canary Islands
The Canary Islands are 800 miles further south of Spain which adds almost 2 hours to the flight time. They have more daylight hours and it is up to 5°C warmer, into the low twenties Celsius. However there is only a little bit more sunshine compared with mainland Spain.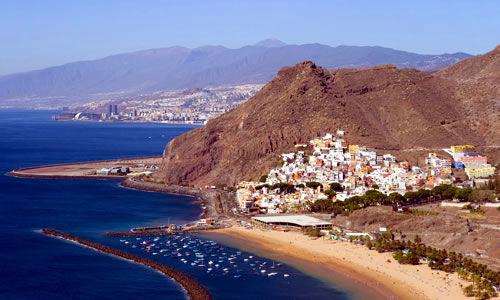 San Andres Tenerife © Santi Rodriguez - Fotolia
You might only need a t-shirt during the day but you will still need an extra layer for the evening. Fuerteventura and Lanzarote usually have a little more sunshine than the other islands but they are also a touch cooler. Check out the latest deals to the Canary Islands offered by On the Beach and easyJet Holidays.
Back to Top
Egypt and the Red Sea
The Red Sea resorts of Sharm el Sheikh and Hurghada in Egypt are nearly six hours from the UK. In December and January daytime temperatures here are much the same as in the Canary Islands but there is more sunshine, around 8 hours a day and the sea is warmer at 22-24°C; however air temperatures are cooler at night.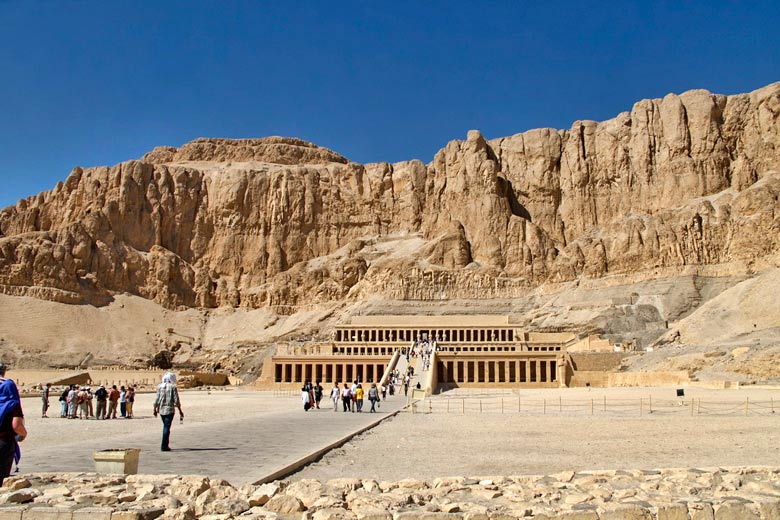 Temple of Hatshepsut Luxor, © Mirek Hejnicki - Fotolia
Still in Egypt Luxor does not have a beach but it is warmer and has more sunshine than Sharm el Sheikh; ideal weather for wandering around ancient ruins. There is a great variety of hotels and restaurants and of course temples, tombs and museums.
Some hotels have pools, but check that they are heated, because it gets cold at night. You can also take a short cruise on the Nile or balloon ride over the desert. Deals to the Red Sea and Luxor are available from most online travel companies including Sunshine and Lastminute.com.
Back to Top
Dubai, United Arab Emirates
Dubai has plenty of sunshine during the winter but it can also feel quite cool at times. December is warmer than January with temperatures ranging from the mid teens at night to the high 20s during the day. With low heat and humidity you are unlikely to feel too hot.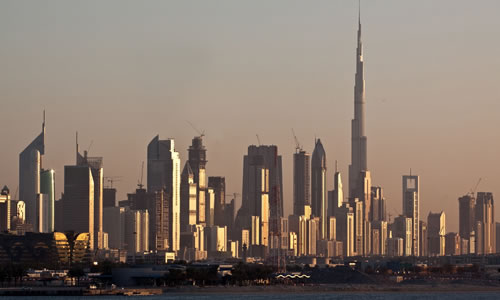 Dubai skyline, United Arab Emirates © Aguaviva - Fotolia
January is a good few degrees cooler and both months have an average of 8 hours a day of sunshine. Sea temperatures are usually between 23°C and 25°C but you are unlikely to find any of the expat locals swimming - they would consider it far too cold! Holidays to Dubai are available from BA Holidays and Sovereign.
Back to Top
Indian Ocean
For some proper warm winter sun holidays we recommend the long haul option. If you want to return after Christmas with an enviable tan the warmest and sunniest beach destinations in December and January are in Goa and Kenya. Here you can expect 9 to 10 hours of sunshine a day and temperatures up into the thirties Celsius.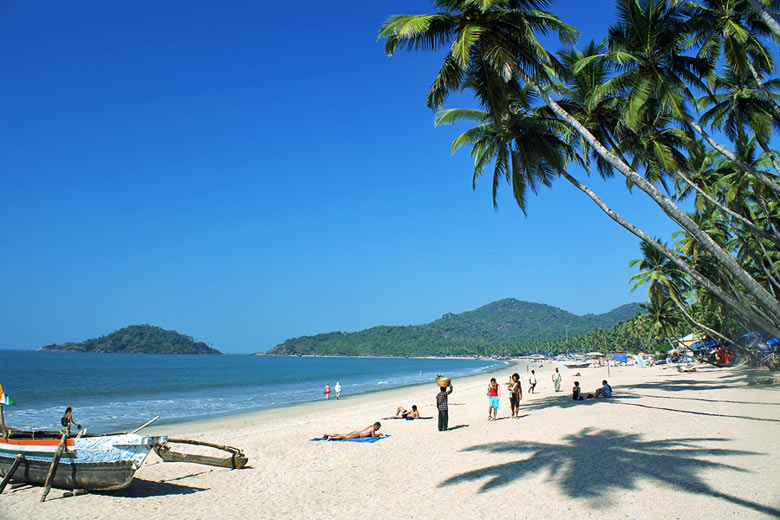 White tropical sands of Palolem Beach, Goa, India © Mikhail Nekrasov
Goa is a popular destination with both Indians and international travellers. The beaches around Panaji can be quite busy so if you want a more laid back atmosphere we suggest you travel further south. The sea along the whole coastline is a toasty 27°C, and there is high heat and humidity almost everywhere although this can be moderated by sea breezes.
Holiday deals to Goa are available from Thomson, Olympic Holidays and Cosmos Holidays with competitive prices for all-inclusive and bed & breakfast stays.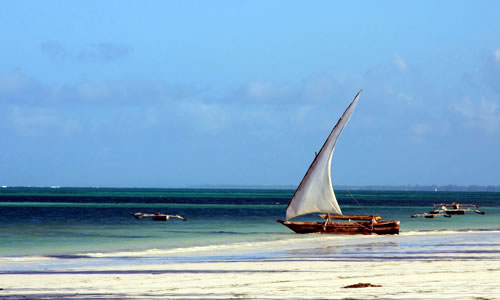 Outrigger on Kenyan coast, © Dsukhov - Fotolia
Mombasa is the main hub for travellers heading for the Kenyan Coast. It has an international airport with direct charter flights from the UK which are not that frequent but worth taking rather than waiting for a connection in Nairobi. The weather on the coast is hot and sunny with very high heat and humidity.
For the latest deals to Mombasa and the Kenyan Coast call Directline Holidays on 020 3589 4269 or browse the Thomson Holidays departing in the next 6 weeks.
Back to Top
South Africa
Though not exactly a beach destination, Cape Town has some of the best weather in the world over the Christmas holidays with up to 11 hours of sunshine a day and temperatures in the mid twenties. There is always a feeling of spring time in Cape Town at Christmas; also 14 hours of daylight each day.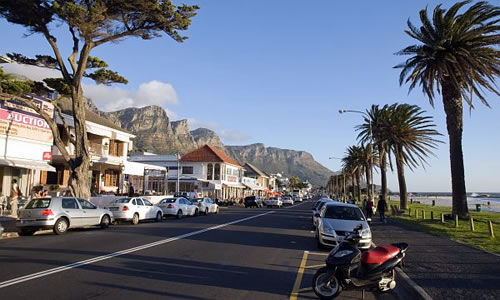 Camps Bay Cape Town, photo courtesy of South African Tourism
This is our number one destination for winter sun for those who are not specifically after a beach holiday. There are some beautiful beaches to the south of the city but a very cold current along the coast means that sea temperatures are really chilly. Both Virgin Holidays and The Holiday Place offer great package deals to Cape Town.
Back to Top
The Caribbean
The Caribbean generally becomes cooler from the end of November with progressively more sunshine through December into January. January and February are the coolest months everywhere but with average daytime temperatures in the high twenties and rarely falling below 20°C at night cool is perhaps not the most appropriate word.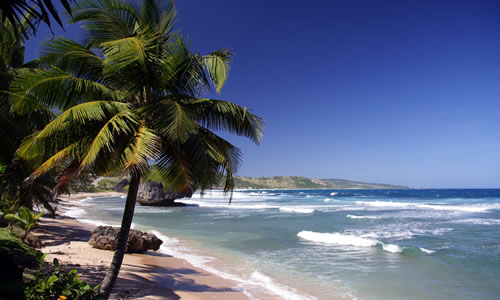 Winter sun holidays to the Caribbean © Holger W.
In Barbados during December and January you can expect 8 to 9 hours of sunshine a day and sea temperatures of 27°C. There is slightly more sunshine on the southern islands like Barbados, St Lucia and Grenada than in the north.
Antigua for example has 7 hours a day normally. So Barbados gets our vote as the best destination for winter sun for those looking for a beach holiday over Christmas and the New Year. For cheap holidays to the Caribbean check out Sunshine.co.uk and lowcostholidays.
Back to Top
Thailand
Like the Caribbean Thailand has a winter dry season with little rain from December to March and plenty of sunshine. The beach destinations in the south are all less than 10 degrees north of the equator so although it is technically winter it is still pretty hot.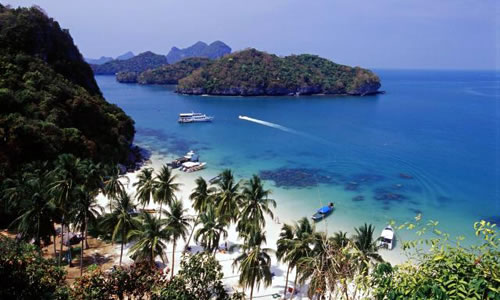 Ko Samui, Thailand - Photo courtesy of Thailand Tourism
Temperatures at Phuket typically range from 23°C at night to 30°C or more during the day with 8 to 9 hours of sunshine and high heat and humidity. Ko Samui on the east side of the peninsular is a couple of degrees cooler with 6 to 7 hours of sunshine. Hayes and Jarvis and Destinology offer holidays to Thailand.
Back to Top
Australia
For the real diehard long haul traveller Australia offers plenty of warmth and sunshine in December and January. It is a long way to travel but attractions include 14 hours of daylight and less heat and humidity than in some of the tropical destinations mentioned above.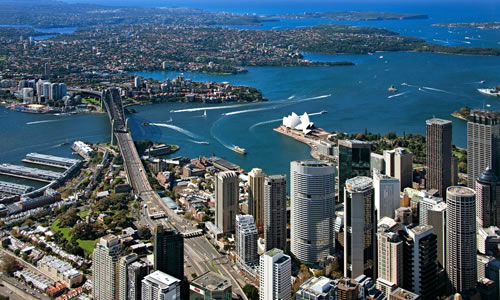 Sydney Harbour, © Ethan Rohloff - Destination NSW
Perth typically has a massive 11 hours of sunshine and temperatures ranging from the high teens at night to the high twenties during the day. Adelaide Sydney and Melbourne are usually a little cooler with highs in the mid twenties Celsius and between 7 and 10 hours of sunshine.
Whether you want to book separate flights and accommodation or an all in one package, the deals to Australia from British Airways and Expedia are always worth a look.
Back to Top
Winter Sun Holidays for Everyone
Wherever your quest for sunshine and warmth takes you don't forget to pack the sunscreen. Let us know about your favourite winter sun holidays below and join in the conversation.
Jonathan Nigel on Google+