Cheap all inclusive holidays to Sharm el Sheikh 2015
Cheap all inclusive holidays to Sharm el Sheikh in 2015 are now easier than ever to find with our extensive collection of deals and discount codes from leading the names in holidays. Whether you fancy an all-encompassing package or something a bit more basic, we're sure to have an unmissable offer to help you get to the idyllically hot Egyptian coast for less.
Cheap all inclusive holidays to Sharm el Sheikh 2015
From simple accommodation and flight deals, to comprehensive cheap all inclusive holidays to Sharm el Sheikh, you'll find the very latest selection of offers right here. By using an applicable discount code or deal you could make a real saving that would be better spent on cocktails at the beach bar or a thrill-seeking afternoon of water sports. Read on for the latest 2015 bargains from big brand holiday providers:
A bit about Sharm el Sheikh, Egypt
Located on the southern tip of the Sinai Peninsula on part of Egypt's Red Sea coast, Sharm el Sheikh has long been attracting holidaymakers keen to revel in the dry, hot and sunny conditions that bathe the region almost year-round.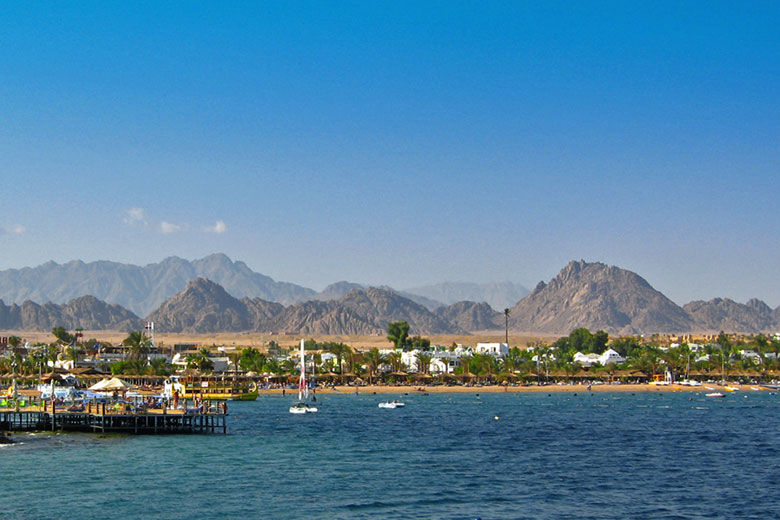 For those after everything from cheap all inclusive holidays to Sharm el Sheikh, to self-catering and B&B breaks, it's a haven of azure seas, fantastic coral reefs, diverse fish species, selection of water sports, rich culture and delicious cuisine, all served up with high temperatures and unrivalled sun bathing opportunities. It's no wonder Sharm el Sheikh has such an enduring appeal.
Travel to Sharm el Sheikh, Egypt
Egypt is plagued with political uncertainty, however, the resorts of Sharm el Sheikh have, to an extent, managed to maintain an element of the status quo, continuing to offer great value deals to sun-hungry holidaymakers.
While specific areas within Egypt are off limits according to the FCO, Sharm el Sheikh remains accessible, and tourism is a vital contributor to the Egyptian economy. It's best to check before you book, and before you travel, but currently there is no advice against travel to Sharm el Sheikh. For more information visit gov.uk.
Last updated: September 2014
Sharm el Sheikh luxury holidays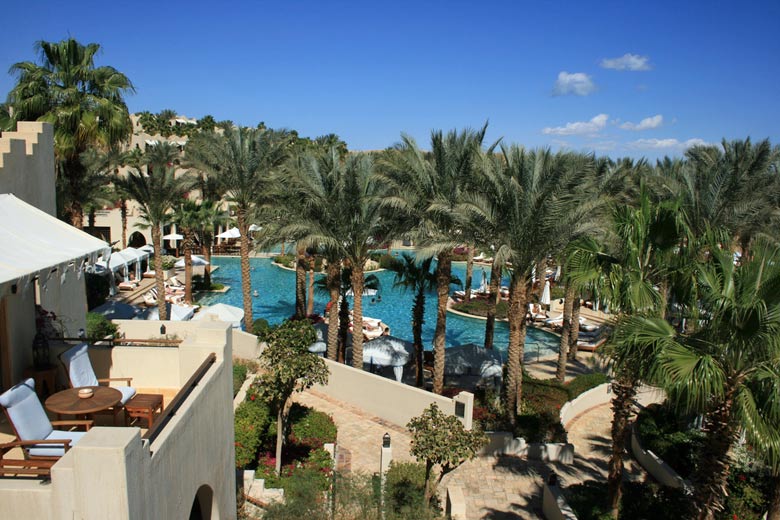 As if the turquoise waters and rich sea life weren't treat enough, Sharm el Sheikh has a number of seriously high end hotels and resorts that will delight anyone after a touch of luxury. From cheap all inclusive holidays to Sharm el Sheikh, to great value B&B or half board deals, an extravagant break is well within reach in magical Egypt. Five of the most luxe properties found in Sharm el Sheikh include:
Baron Resort Sharm el Sheikh
Hyatt Regency Sharm el Sheikh
Hilton Sharm Waterfalls Resort
Four Seasons Resort Sharm el Sheikh
Grand Rotana Resort & Spa Sharm el Sheikh
Most of the four and five star hotels, many of which are located around Hadaba, are enormous, with generous swimming pools, poolside bar service, plenty of sun loungers, various international cuisine options and even indulgent spas. However, if you do choose to leave the comfort of your spacious accommodation, you'll find a great selection of memorable things to do that will complete any luxury holiday, including:
Diving - whether it's a one-off session or an extended PADI course, invest in diving in the Red Sea for an underwater experience you'll treasure
Safaris - from camel and horseback, to quad biking and desert buggies, there's an adventurous safari for all in Sharm el Sheikh
Golf - enjoy a round at Jolie Ville, Sharm el Sheikh's only 18-hole PGA International golf course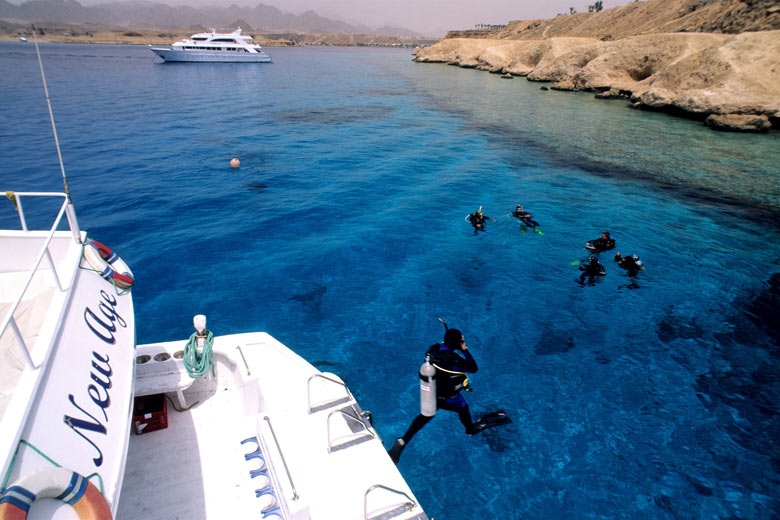 Of course, if it's real relaxation you're after, you could just kick back poolside, champagne in hand, and make the most of your luxury cheap all inclusive holiday to Sharm el Sheikh in 2015 instead.
Find luxury holidays to Sharm el Sheikh >>

Cheap holidays to Naama Bay
Cheap holidays to Naama Bay for 2015 are in high demand as it's the epicentre of Sharm el Sheikh, with all the shops, restaurants, bars, clubs and entertainment you could possibly need.
It's also home to some of Sharm el Sheikh's best dive sites and reefs, all teeming with marine life, colourful coral, amazing formations and even the odd wreck. Naturally, this means it's very popular with divers and snorkellers, and the best part is no matter what your level or experience, you'll be able to get up close and personal with this underwater oasis, thanks to the many dive and excursion centres that cater to every ability.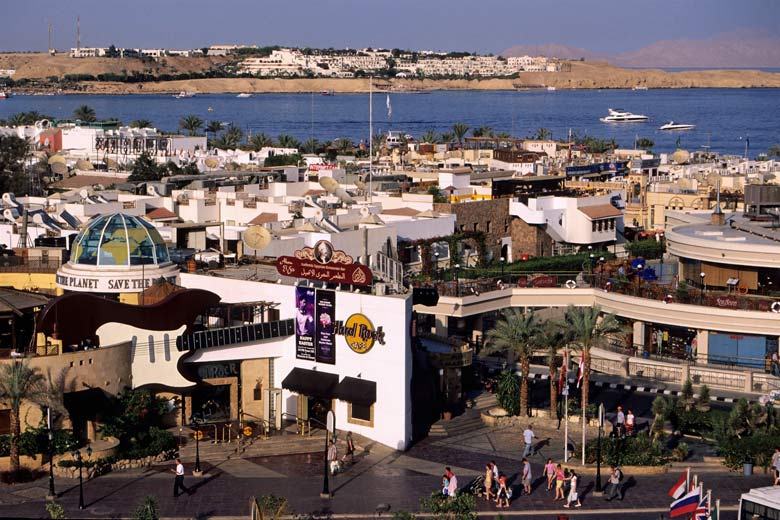 You'll also find El Sharm Mall, an avenue in Naama Bay lined with a variety of cafes and shops selling a range of souvenirs, as well as surrounding streets full of designer brands, duty-free goods and some smaller boutiques. Come dusk, Naama Bay really comes alive, with loud and lively bars, including the DJs at Hard Rock Café and clubbers' favourite Pacha.
If you're searching for cheap holidays to Naama Bay in 2015 the good news is that there is plenty of choice, with loads of providers offering some very affordable deals to this paradisiacal stretch of Egypt's coast.
Search for holidays to Sharm el Sheikh >>

Other resorts in Sharm el Sheikh
While Naama Bay is by far the busiest and liveliest destination for those on cheap all inclusive holidays to Sharm el Sheikh, there are a number of other much-loved, slightly quieter (only slightly, as everywhere in Sharm el Sheikh is generally busy) places dotted along Sharm el Sheikh's roughly 35 mile stretch of coast. Other resorts you might want to consider when searching for a cheap all inclusive holiday to Sharm el Sheikh in 2015 include:
Nabq Bay
The most northerly of Sharm el Sheikh's resorts, Nabq Bay marks the end of dry land in the Nabq Protected Area, a collection of mangroves, reefs, dunes, birds, wildlife for preservation and conservation. Located further away from the bustling hub of Naama Bay and Sharks Bay, Nabq Bay is that little bit quieter, with some fantastic snorkelling and a number of good wreck dives.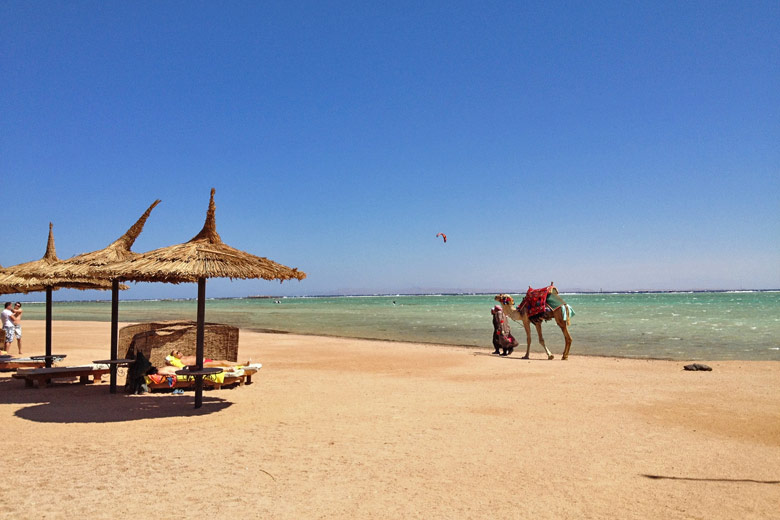 There are of course still plenty of bars and restaurants to meet your every need, although many of the hotels and resorts in Nabq Bay aim to include everything in one place, which is ideal for those browsing cheap all inclusive holidays to Sharm el Sheikh in 2015.
Sharks Bay
Sharks Bay is home to a man-made beach which is largely all claimed by hotels and resorts - there's no public space on the coast here. However, it is a calm spot, with many snorkelling, fishing and boat trips departing from its marina. Much like other bays in Sharm el Sheikh, it is well equipped with entertainment and restaurants, all largely centred around Soho Square.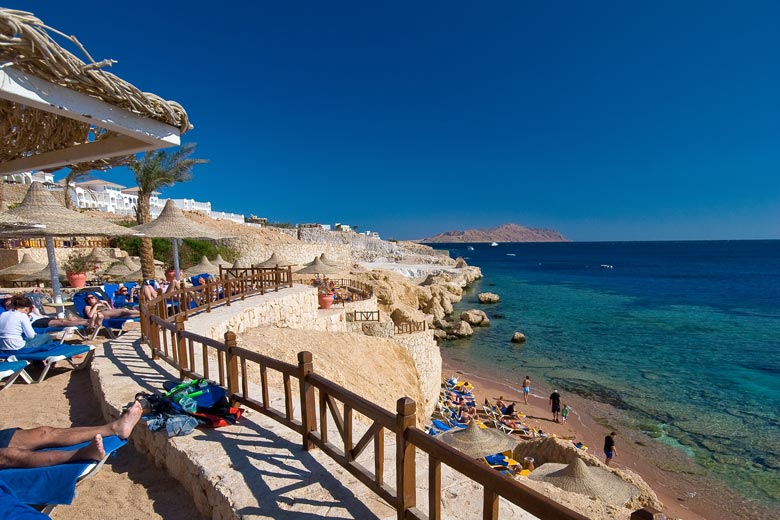 If you're not fussed about leaving your lounger, there are plenty of hotels and resorts with everything on site, ideal for those after cheap all inclusive holidays to Sharm el Sheikh in 2015.
Hadaba
Typically the preserve of big, all inclusive resorts, private villas and apartments, Hadaba also has everything to hand, including bars, restaurants, shops and a multitude of swimming spots - snorkelling at Ras um Sid is a must. Nearby attractions ideal for families include the impressive Aqua Blu Water Park and Cleo Water Park.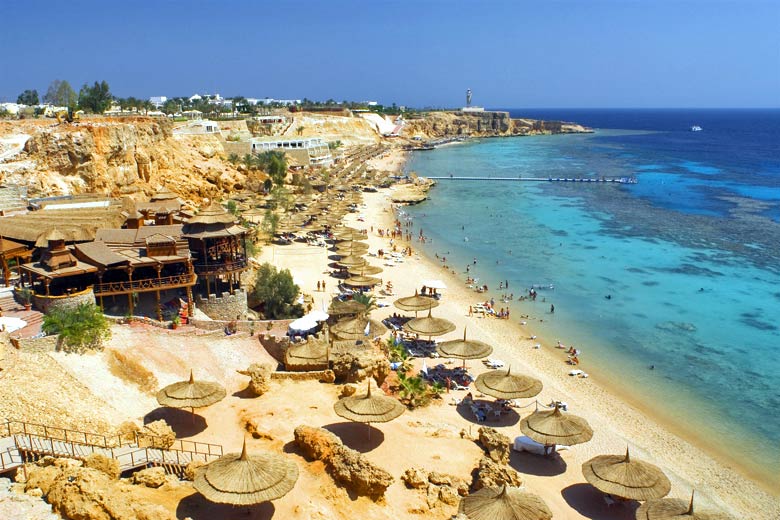 Another plus to a cheap all inclusive holiday to Hadaba in Sharm el Sheikh is it's location nearer the older, original part of the town. Here you'll find the souk, or Old Market as it's called, full of everything from herbs and spices, to bags, jewellery and souvenirs.
Search for holidays to Sharm el Sheikh >>

Key facts about Sharm el Sheikh
To ensure you have the basics covered on your cheap all inclusive holiday to Sharm el Sheikh, here are some of the area's vital stats:
Flight time from London (UK): up to 5.5 hours
Time zone: EET - Eastern European Time (GMT +2)
Currency: Egyptian pound
Driving: right-hand side
Major airport: Sharm el Sheikh International Airport (SSH)
Sharm el Sheikh was designed with tourists in mind - it's a destination for holidaymakers, with umpteen places to eat, drink, shop and be merry, all located right by some of the clearest, warmest waters around.
Whether it's a B&B deal, half board offer of cheap all inclusive holiday to Sharm el Sheikh in 2015 you fancy, hopefully you've found the perfect discount right here, however, if you're still looking, check out our complete collection of travel deals.
Get FREE travel offers
Sign up to receive the latest deals and exclusive discounts on holidays, flights, hotels and more, plus inspiration on where to go when
We promise not to share your details