Cheap all inclusive holidays to Lanzarote 2016: Latest deals
Searching for cheap all inclusive family holidays to Lanzarote in 2016 is easier than ever, as we've collected the very latest discount codes and special offers from leading brands all in one place. Here you'll find not only current savings and cheap deals, but also detailed information on Lanzarote, as well as a plethora of things to do and see for every age, taste and budget.
Cheap all Inclusive holidays to Lanzarote 2016
From Thomson to Thomas Cook, First Choice and so many more, we have a comprehensive selection of offers, perfect for those looking for everything from self catering and B&B, to cheap all inclusive holidays to Lanzarote for 2016:
Save up to £400 per couple on summer holidays to Lanzarote
1,000's of kids places available + low deposits from £75
DealLine3
Travel between 1st May & 31 Oct 2016 (inclusive)
Save 30% on Iberostar hotels & resorts in Spain
Travel before 14 Feb 2016 (inclusive)
Save up to 30% on hotel stays in the Canaries with Iberostar
First child aged 7 or younger stays for FREE + FREE wifi
Travel before 30 Apr 2016 (inclusive)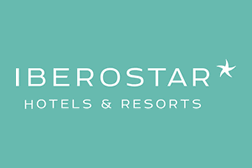 Exclusive
Save 20% on hotel stays across Spain, Canaries and the Med
Minimum 5 nights stay - blackout period applies
Travel between 2nd May & 30 Jun 2016 (inclusive)
Save up to 45% on early bookings for summer 2016
First child stays for FREE
30% online discount + 15% off for MeliaRewards members
Travel before 31 Oct 2016 (inclusive)
Save up to £25 on short & mid haul flights
Fly to Greece, Cyprus, Spain & more
Travel before 31 Oct 2016 (inclusive)
Save £100 per person on holidays to Lanzarote
£200 per couple/£400 for a family of 4 + low deposits
Depart from northern airports across the UK
Save an extra 10% on Iberostar hotels in Spain in 2016
Travel before 31 Dec 2016 (inclusive)
Browse the latest special offers on holidays to Lanzarote
Filter holidays by star rating, board basis & more
Holiday offers start from £339 per person
Browse the latest holiday deals to Lanzarote
Holidays start from just £335 per person
Low deposits available from £50 per person
Explore all inclusive holiday deals for to Lanzarote
Filter deals by board basis, star rating & more
Holidays start from just £429 per person
Find cheap direct flights to the Canaries from £39.90 one-way
Fly to Tenerife, Lanzarote, Gran Canaria and Fuerteventura
Norwegian flights depart from London Gatwick (LGW)
Save up to 8% on holidays to Lanzarote when you book online
Find the latest top Lanzarote holiday deals
Plus learn more about things to do & where to stay
Check out latest deals on winter holidays to Lanzarote
Holiday prices start from just £311 per person
Browse top Lanzarote offers or search for specific travel dates
Browse the top holiday offers to Lanzarote
Check out the Tripadvisor rating before you book
Filter deals by price, star rating, duration, month & more
Save 5% on Iberostar hotels & resorts in Spain & the Med
Black out periods apply
Travel before 30 Apr 2016 (inclusive)
Explore the latest offers on holidays to Lanzarote
Filter deals by departure airport, price & star rating
Holiday prices shown are per person
Save on holidays to Lanzarote with easyJet holidays
Explore top destinations and hotels in Lanzarote
Search for deals based on star rating, board basis & more
Book flights to Lanzarote from just £35.66
Fly direct from Gatwick, Manchester & more
Prices are one way, including taxes, based on return flight
Browse cheap deals on hotels in Lanzarote
Price Match Guarantee - Agoda will match or beat lower rates
Save up to 30% when you sign up to Agoda Insider Deals
Save up to 25% with the latest hotels deals for Lanzarote
Compare hotels & read the latest reviews before you book
Check out the best prices from leading hotel providers
A bit about Lanzarote
Situated around 78 miles off the west coast of Africa, Lanzarote is the fourth largest Canary Island, and an enduringly popular destination with holidaymakers. It benefits from a welcoming climate year round, an abundance of rustic natural beauty, five Blue Flag beaches, and array of things to do, from water sports to inland activities and attractions.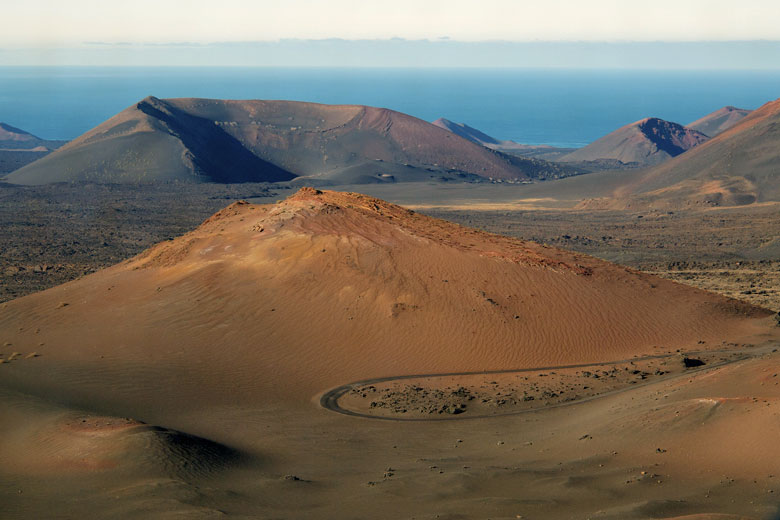 Lanzarote is also a UNESCO biosphere reserve, with more than 13 nature reserves covering just under half of the island's surface. Timanfaya National Park is at the core, home to the island's only remaining active volcano, alien landscapes, rare plants, and intriguing steamy geysers.
All inclusive holidays to Lanzarote
The mark of a really good holiday is often knowing that you don't have to worry about a thing, giving you plenty of time to unwind and leave the woes of working life behind. There's no better way to experience this than by indulging in a cheap all inclusive holiday to Lanzarote in 2016. Five of the top hotels and resorts for all inclusive holidays include:
Iberostar Lanzarote Park, Playa Blanca
Hotel Costa Calero, Puerto Calero
Iberostar Papagayo, Playa Blanca
Hotel Luabay Lanzarote Beach, Costa Teguise
Sol Lanzarote Aparthotel, Matagorda
Find cheap all inclusive Lanzarote holidays >>

Lanzarote family holidays
Lanzarote is a veritable playground for families looking to make the most of a cheap all inclusive holiday. There's so much to keep everyone entertained, as well as countless great hotels and resorts with everything from kids' clubs and pools, to dedicated menus and activities. If you're escaping with your brood, check out these highly rated family friendly accommodation options:
H10 Lanzarote Gardens, Costa Teguise
Flamingo Beach Resort, Playa Blanca
Los Zocos Club Resort, Costa Teguise
Paradise Island, Playa Blanca
HL Club Playa Blanca Hotel, Playa Blanca
As well as the multitude of water sports and pool games on offer, there's plenty of opportunity to get hands on with other activities, or even to learn something new on your cheap all inclusive family holiday to Lanzarote.
Visit one of the many surf centres to master the waves, or hire mountain bikes to explore the scenic volcanic landscape. Animal lovers can hop on a camel hump for an unforgettable ride through the Timanfaya National Park, or go horseback riding along the beach.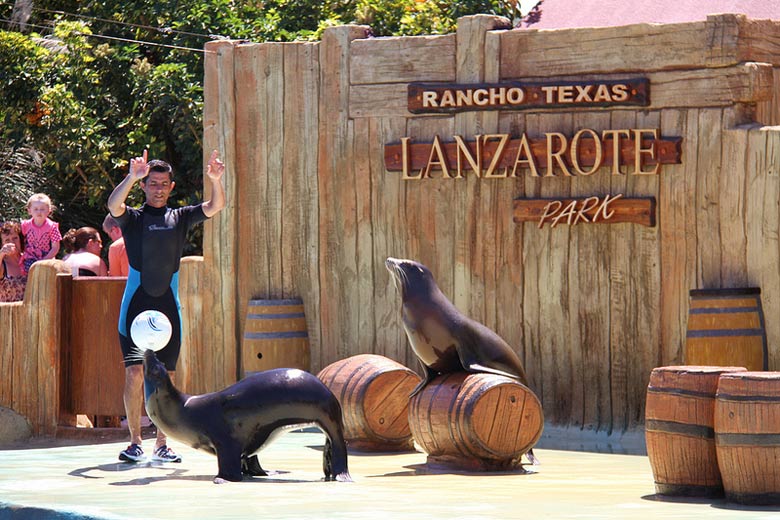 The island is also full of enticing attractions that promise excitement for all and memorable days out. Check out the following major parks and centres on your cheap all inclusive holiday to Lanzarote in 2016:
Rancho Texas Lanzarote Park - from chameleons to komodo dragons, water slides to swimming with sea lions, this park is bursting with activities for all the family
Go Karting San Bartolome - get competitive on this challenging but fabulously fun hillside go karting course
Aquapark - experience pools, slides and flumes for all ages, as well as paintballing and an adventure park with zipline and climbing frames
Lanzarote Aquarium - visit the largest aquarium in the Canary Islands, with countless marine species; get hands on with star fish in the touch tank, or test your nerves with a shark dive
Aqualava Waterpark - a lazy river, wave pool, water castle and slides are just some of the exciting things on offer at this expansive water park
Find family holidays to Lanzarote >>

Luxury Lanzarote holidays
The lap of luxury isn't hard to find in Lanzarote, which has an ample selection of stylish accommodation and high end activities. If you're looking for somewhere seriously classy to stay on your cheap all inclusive luxury holiday to Lanzarote, check out the following hotels and resorts:
Princesa Yaiza Suite Hotel Resort, Playa Blanca
Hotel Volcan Lanzarote, Playa Blanca
Vitalclass Lanzarote Sport & Wellness Resort, Costa Teguise
Hesperia Lanzarote, Puerto Calero
Melia Salinas, Costa Teguise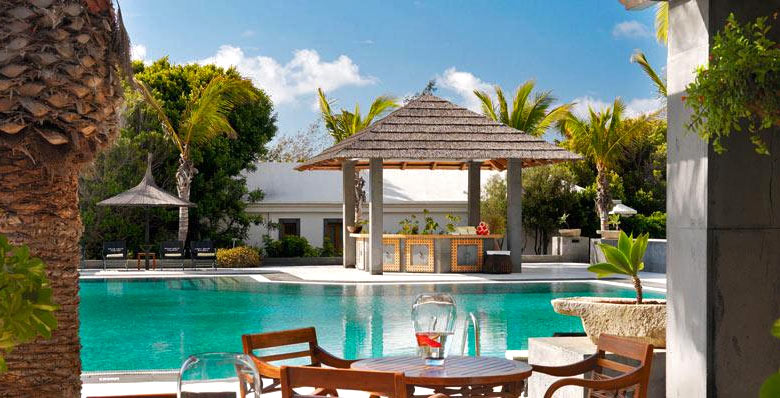 Away from the pool bars and beach clubs, you'll find a wealth of outdoor activities, with golf and diving proving especially popular for those on cheap all inclusive luxury holidays to Lanzarote. Find out more about the following centres, which guarantee to satisfy that craving for a cheeky round or underwater encounter:
Costa Teguise Golf Club
Lanzarote Golf Club
Big Blue Sea Dive Centre
Aquasport Diving
Daivoon Diving Centre
If your luxury Lanzarote holiday is more about relaxing than working up a sweat, consider a stress-free day one of the island's top spas and wellness centres, offering every shade of pampering, from massages and treatments to thalasso therapy. Five of the best include:
Vitalidad, Playa Blanca
Lanzarote Therapy, Playa Blanca
Aquarsis Wellness Center in Puerto del Carmen
Hotel Costa Calero Thalasso Spa
Hotel Beatriz Playa & Spa, Puerto del Carmen
Meanwhile, for some fine dining on a cheap all inclusive holiday to Lanzarote, try Michelin-recommended Aromas Yaiza in Playa Blanca, Amura in Puerto Calero, and Mariateresa at Hotel Finca de las Salinas in Yaiza.
Find luxury holidays to Lanzarote >>

Cheap holidays to Playa Blanca
Playa Blanca, located on the southern tip of the island, is one of Lanzarote's largest resorts, full of great places to eat, sleep and be merry. It's a sophisticated spot, with a modern marina, gourmet restaurants serving the freshest fish, and designer shops.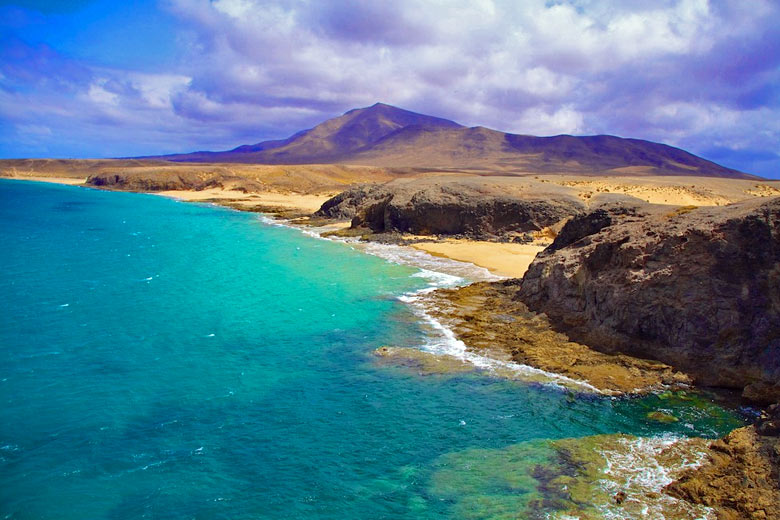 However, it's Playa Blanca' natural assets which continually draw tourists. It's heaven for beach babes, with a number of idyllic sunbathing and swimming areas. If you're browsing cheap holidays to Playa Blanca for 2016, let these stunning beaches sway you:
Playa Blanca - a much loved Blue Flag sandy beach with gentle, turquoise waters and amenities
Playa Dorada - another Blue Flag winner with golden sand, plenty of loungers and tonnes of water sports
Playa Flamingo - a calm and quiet sandy bay backed by rocks, and frequented by local fishermen
Papagayo - sheltered white sandy crescent, said to be one of the most beautiful on the island, ideal for swimming, snorkelling and sunbathing
For the active, there's a load of things to do, from segway tours and quad biking, to day cruises, and excursions such as kayaking. Playa Blanca's other appeal for those on cheap all inclusive holidays to Lanzarote, is its surrounding volcanic landscape, perfect for exploring and hiking.
Find holidays to Playa Blanca >>

Cheap holidays to Costa Teguise
Costa Teguise is an energetic place, which is perhaps why it's one of the most desirable places to stay on the island - the former King Carlos of Spain even has a place here.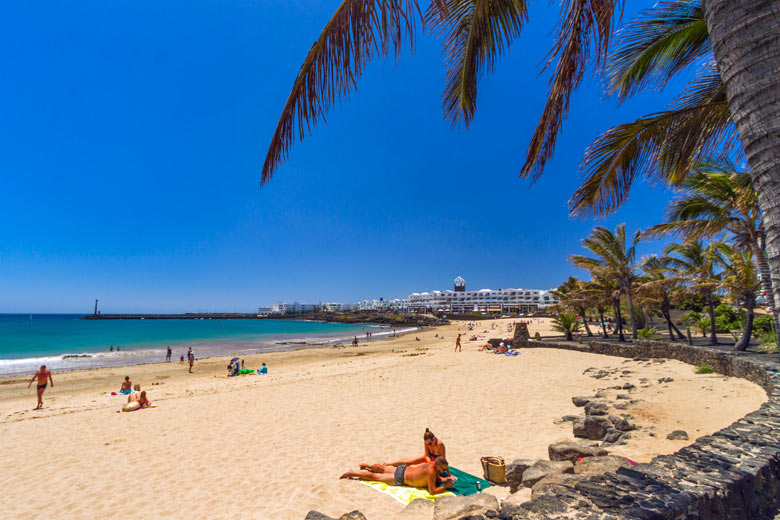 It has restaurants with every cuisine, and bars with every cocktail, ensuring no one is left out. While the nightlife is a vibrant one, it retains a sense of calm, which brings families back on cheap all inclusive holidays to Lanzarote year after after.
For those enjoying cheap holidays to Costa Teguise in 2016, you'll be pleased to know everything is on your doorstep, from highly regarded golf courses and an aqua park to a string of no less than five beaches. Located on the southeast of Lanzarote, things can get a little choppy thanks to the northeast trade winds that create ideal conditions for windsurfers. For some sheltered bathing, head to Playa Jablillo, which is more protected than the other Costa Teguise beaches.
Find holidays to Costa Teguise >>

Cheap holidays to Puerto del Carmen
Puerto del Carmen is arguably the life and soul of Lanzarote's party for those on cheap all inclusive holidays. After becoming popular during the sixties, it continues to thrive today, offering holidaymakers a range of beaches, a fully stocked strip of bars and clubs, and easy access to the curious craters of Timanfaya National Park.
Beach lovers on cheap all inclusive holidays to Puerto del Carmen in 2016 will want to pick from the following main options:
Playa Grande - this gently sloping central beach is lined by the main promenade, and is well catered to with sun loungers, umbrellas and more
Playa Chica - located in the old town, this charming beach is an intimate and secluded bit of coast loved by snorkellers and divers
Playa Pocillos - this action packed stretch of wind swept sand to the east of town is all about the water sports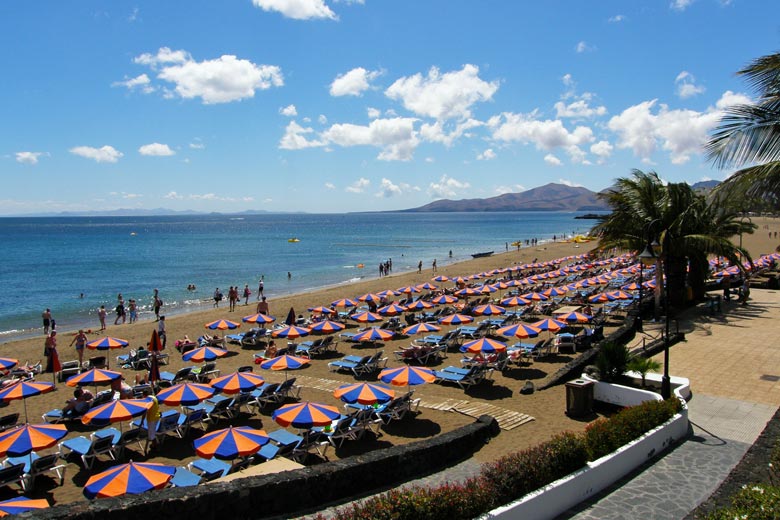 As well as the usual water sports such as jet skis, banana boats and surfing, you can book a world of activities to try in Puerto del Carmen, from private bike tours and go karting, to diving, fishing or just a relaxing cruise.
In terms of cuisine, there's many a cafe where you can sample some spicy tapas and freshly grilled seafood on your cheap holiday to Puerto del Carmen in 2016 - Restaurant el Golfo is a favourite. If you're after a taste of home, head to the Little Elm Restaurant for a fine Sunday roast, or Bozena's Bar & Restaurant for an international flavour. Come dusk, make for Cesar's Bowling & Bar to kick start your evening.
Find holidays to Puerto del Carmen >>

Other resorts in Lanzarote
If you're still hoping to find the perfect resort on your hunt for cheap all inclusive holidays to Lanzarote for 2016, fear not - there are some other destinations on the island which are perhaps slightly more chilled out, and a little more sedate than the lively hubs of Puerto del Carmen and Costa Teguise:
Costa Calero
The heart of Costa Calero, or Puerto Calero as it's also known, is its marina, a thirty-something year old construction that was sensitively built, and is considered to be a rather upmarket destination for those on cheap all inclusive holidays to Lanzarote.
It's brimming with boutiques and restaurants, as well as plenty ourdoor vantage points to soak up the sun, and the views of so-called Millionaire's Harbour thanks to the volume of luxury yachts which come and go. As well as superior cocktail bars and guaranteed Champagne, you'll also find an art gallery and a general air of people just enjoying being by the water.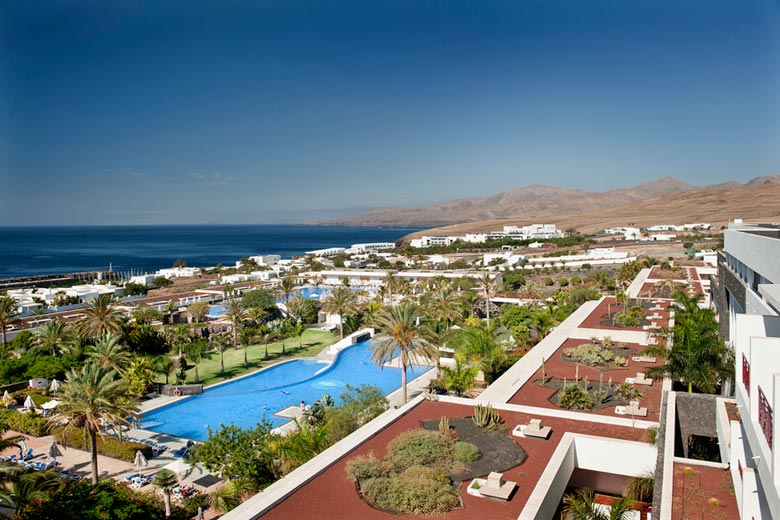 There isn't a beach per se here, however, the bays of Puerto del Carmen are mere minutes away. It's also in a great location for those hoping to explore Timanfaya National Park, and the capital, Arrecife. Costa Calero is the perfect place for those hunting cheap all inclusive holidays to Lanzarote in 2016 that want a laid back pace, while only a short distance from all the action in the neighbouring town.
Matagorda
Lying just to the east of Puerto del Carmen, Matagorda real does benefit from the best of both worlds. It has a welcoming and friendly atmosphere, which creates the most ambient and relaxed environment for those after cheap all inclusive holidays to Lanzarote in 2016.
While you can sink into the laid back vibes found in the restaurants and bars Matagorda, you can also make the quick and easy hop to the bustling nightlife and Blue Flag beaches of Puerto del Carmen. The capital Arrecife with its various fortified museums and shops is also only a short drive away, ideal for a day trip.
Key facts about Lanzarote
Lanzarote is a truly fabulous holiday destinations, with something to tickle every interest, from water sports to in land adventures, shopping and dining. To ensure you make the most of your cheap all inclusive holiday to Lanzarote in 2016, here are some of the island's vital stats:
Flight time from London (UK): 4 hours
Time zone: Western European Time Zone (GMT+0)
Currency: Euro
Driving: right-hand side
Major airports: Lanzarote Airport (aka Arrecife Airport) (ACE)
Whether you fancy an opulent self catering villa, basic B&B or cheap all inclusive holiday to Lanzarote in 2016, you're certain to find the best deal to the perfect resort right here.
Get FREE travel offers
Sign up to receive the latest deals and exclusive discounts on holidays, flights, hotels and more, plus inspiration on where to go when
We promise not to share your details