Jet2 promo offers 2015: 10% OFF flights
By Colin Carter updated on 6th March 2015 in Flights and Voucher Codes
The latest Jet2 promo offers 2015 could save you money on your next flight booking, along with our collection of Jet2's deals, discounts and special offers. Whether you're planning a beach holiday, weekend break or skiing trip, Jet2 is sure to have something for you. As a leading airline operating flights from major UK airports in the north, including Manchester, Newcastle and Edinburgh, to over 50 destinations worldwide, you'll be spoilt for choice.

Jet2 promo deals 2015: Discounts and promotional offers on flights
Latest Jet2 promo offers & discounts for 2015
You may be thinking ahead to summer 2015, or hoping to catch a bit of winter sun or perhaps even a ski break - well look no further, as we have the latest Jet2 promo offers and discounts for 2015, with huge savings on flights to favoured destinations across Europe and the Med.




Save 10% on ALL flights in the Jet2 sale
Fly from northern airports in the UK
Discount is automatic - No Jet2 promo code required




Find the cheapest flights with the Jet2 Low Fare Finder
Simply say where and when you like to travel
Low fares from Leeds Bradford, Manchester and more
If you're thinking about going on holiday, don't miss our Jet2holidays' page, with the latest Jet2holidays' discount offers on beach and city breaks.
Hit the the Swiss slopes or the shops of Paris; soak up the history of Prague or the beauty of Budapest; party in Ibiza or lounge on the beaches of Crete, Gran Canaria or the Algarve... the possibilities are endless, and the Jet2 promo offers and discounts will get you there.
About flying with Jet2
Jet2's dedicated to serving those in the north of the UK with frequent low-cost flights to popular destinations across Europe, the Mediterranean and beyond to North America, with great savings to be had thanks to the Jet2 promo offers as well as many deals and special offers. Fly to New York from Leeds Bradford, Manchester or Newcastle.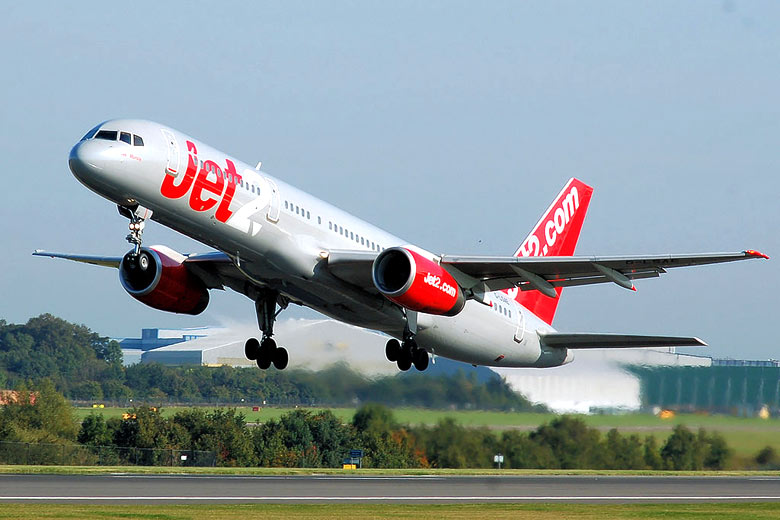 Jet2 flies to over 50 beach and city destinations © Jet2
With over 30 years' experience and an impressive collection of awards, it's no surprise that Jet2 is one of the UK's leading airlines, helping millions of groups, families and couples reach their favourite holiday spots each year. The Jet2 promo offers is just one way you can save on your next flight.
Jet2 operates flights from the following UK regional airports:
Belfast
Nottingham East Midlands
Edinburgh
Glasgow
Leeds Bradford
Manchester International
Newcastle
With a fleet of 50 aircraft and a host of optional extras such as extra legroom and pre-ordered in-flight champagne, Jet2 is the prefered airline of many looking for affordable flights to the following popular beach, city and ski destinations:
Austria - Salzburg, Vienna
Canada - Toronto (spring 2014)
Croatia - Dubrovnik, Pula, Split
Cyprus - Larnaca, Paphos
Czech Republic - Prague
France - Bergerac, Chambery, Grenoble, La Rochelle, Nice, Paris, Toulouse
Germany - Berlin, Düsseldorf
Greece - Corfu, Crete, Kos, Rhodes, Zante
Hungary - Budapest
Ireland - Belfast, Cork
Italy - Pisa, Rome, Sardinia, Venice, Verona
Netherlands - Amsterdam
Poland - Krakow
Portugal - Faro, Madeira
Spain - Balearics (Ibiza, Majorca, Menorca)
Spain - Canaries (Fuerteventura, Gran Canaria, Lanzarote, Tenerife)
Spain - Mainland (Alicante, Barcelona, Malaga, Murcia, Reus)
Switzerland - Geneva
Turkey - Bodrum, Dalaman
United States - Boston, New York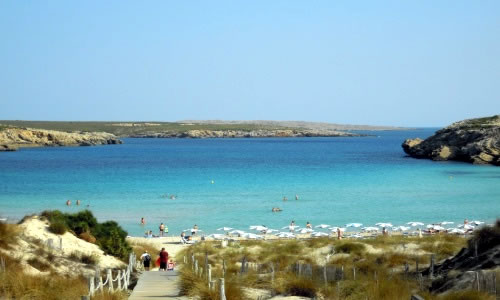 Son Parc Beach, Menorca © Jet2
Why fly with Jet2?
With seven major UK departure points to over 50 destinations over 160 routes, Jet2 has lots to offer travellers looking for affordable flights, including:
Convenient flight times (late morning and early afternoon)
Generous luggage allowance of 22kg
Allocated seats so need to rush onboard
Reliability with 85% of flights taking off on time
Peace of mind thanks to its secure parent company, Dart Group PLC, with sales exceeding £400 million
Its own fleet of 50 aircraft
Jet2 also offers a number of additional extras which can be added to your booking to make your trip more memorable and comfortable (NB: the Jet2 promo offers on occasion contains deals for added extras, so do check before booking). For a fee you can:
Pre-book hold luggage
Reserve your seats
Pre-book oversized luggage or sports equipment (including bikes, golf clubs, skis)
Pre-order a three course meal
Book extra legroom
Pre-order champagne
What's new with Jet2 for 2015?
Continuing to connect the north of England, Scotland and Northern Ireland with some of the best holiday spots, be it an exciting city or beautiful beach destination, Jet2.com has launched a number of new routes to Europe and the USA. Read on to to discover the recent changes and see if the Jet2 promo offer could take you somewhere new:
New routes from East Midlands (EMA) to:
Budapest, Hungary
Fuerteventura, Canary Islands, Spain
Jersey, Channel Islands
Kos, Greece
Madeira, Portugal
Paris, France
Prague, Czech Republic
Reus, Costa Dorada, Spain
Zante, Greece
New route from Edinburgh (EDI) to:
New route from Glasgow (GLA) to:
Boston, Massachusetts, USA
New routes from Leeds Bradford (LBA) to:
Boston, Massachusetts, USA
Toronto, Ontario, Canada
New routes from Manchester (MAN) to:
Bergerac, France
Jersey, Channel Islands
Vienna, Austria (three times week)
New routes from Newcastle (NCL) to:
Krakow, Poland
Prague, Czech Republic
Toronto, Canada
New seasonal route operating until 27 October from Glasgow (GLA) to:
Remember, if you fancybooking any of these new Jet2.com routes, check out the Jet2 promo offer first to see if you save more on the already affordable fares.
Jet2 also offers complete holiday deals with Jet2holidays, combining flights and accommodation for those looking to seal the deal in one go, including adult-only, family, all inclusive, luxury and more. If you're looking to book a comprehensive break, visit our Jet2holidays' page to get the latest discount offers today.

Jet2holidays discount offers on beach holidays & city breaks in 2015
As one of the UK's leading low-cost airlines, Jet2 is a fantastic option for those looking to escape for sunny, city or ski break in Europe, the Mediterranean or North America. Use the Jet2 promo deal 2015 to help cut the cost of your next booking. For more flight discounts visit our flight deals page.
Colin Carter on Google+