October Half Term Holidays 2014: Where's Hot for Family Holidays in the Sun this Autumn
By Jonathan Nigel updated on 26th September 2013 in Destinations and Holidays
As autumn creeps in, leaves curl up and crisp, and the memory of summer fades, the upcoming October half term presents a welcome opportunity for many families to enjoy one final blast of sunshine before winter. Here's a tempting selection of October half term holidays which offer plenty to do as a family as well as heat and sunshine:
When it comes to planning your getaway think eastern and southern Mediterranean, North Africa and the Middle East. These areas are most likely to guarantee sunshine, although you may still pick up a shower in the likes of Malta or the Canary Islands.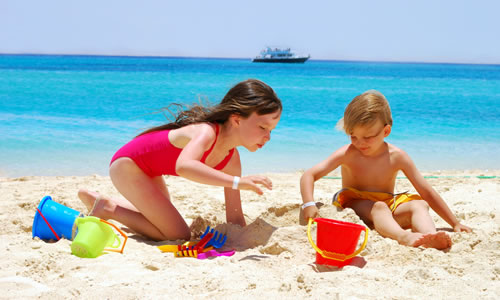 Fun on the beach during October Half Term holidays © Marzanna Syncerz - Fotolia.com
1) Sharm el Sheikh, Egypt
The Red Sea region has long been a favourite destination owing to its collection of family friendly activities and reliable weather. Make for Aqua Blu's popular Aquapark with its 30-plus waterslides, or indulge in snorkelling trips, glass bottom boat rides, water sports and horse riding.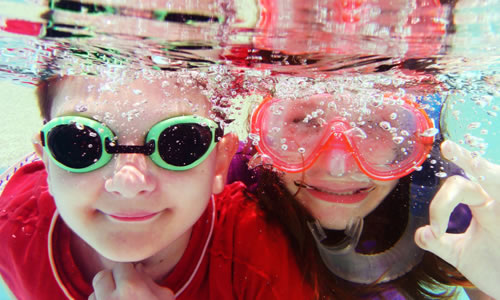 Budding Red Sea divers © Delphimages - Fotolia.com
For a real adventure, head into the desert and experience a night under the stars at a Bedouin camp. Late October is ideal for this as there's no moon which ensures you see the stars at their brightest best - don't forget to pack the woollies though as it gets chilly after dusk.
You can look forward to temperatures in the high-twenties, as well as 10 hours of sunshine per day, and balmy sea temperatures.
While parts of Egypt are plagued by political and civil unrest, Sharm el Sheikh continues to delight holidaymakers. For recent travel advice on the region visit the FCO website.
Back to Top
2) Cape Verde
Sitting 350 miles off the west coast of Africa, the volcanic nature of Cape Verde means the terrain is dry and sandy with beautiful beaches, and as a destination it remains relatively under developed, especially in comparison to its northern neighbours, the Canary Islands. Cape Verde has lots to keep children entertained including horse riding, snorkelling and water sports, however, do take care as the sea can be rough here, opt for a hotel with a pool if possible.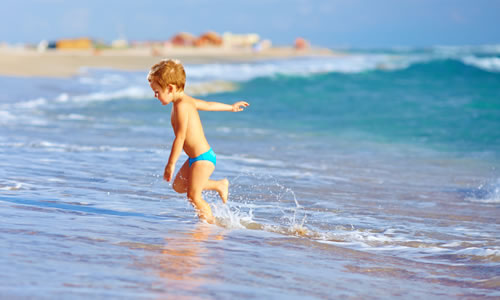 Young boy in the surf © Olesia Bilkei - Fotolia.com
Cape Verde benefits from pleasant conditions year round, and October tends to see seven hours of sunshine per day with temperatures in the high-twenties, although UV rays are particularly strong here so don't forget the SPF.
Back to Top
3) Djerba, Tunisia
Separated from mainland Tunisia by a three-mile causeway or short ferry ride, Djerba is an idyllic island in the south of the Mediterranean Sea which is bursting with things to do while remaining a chilled out spot to relax and unwind.
Take the kids to the Djerba Explore Park with its Nile crocodiles, enjoy a camel ride, or give kite surfing a go at GlobalKite (suitable for children of 30kgs or more). You can also enjoy the beach, renowned thalassotherapy treatments or a trip to the Sahara.
Southern Tunisia is somewhat less developed than the main resorts of Port El Kantaoui and Hammamet. It's also a little warmer at the end of October with temperatures in Djerba ranging from 25°C during the day to 16°C at night, with roughly seven hours of sunshine to be enjoyed.
Back to Top
4) Cyprus
As well as enjoying the beaches and many water sports available, Pafos Zoo is a fun day out, while Fasouri Waterpark and the Sayious Adventure Park in Limassol also promise to entertain. Cyprus's rich history, rugged terrain and wildlife make it an interesting place for hikers too.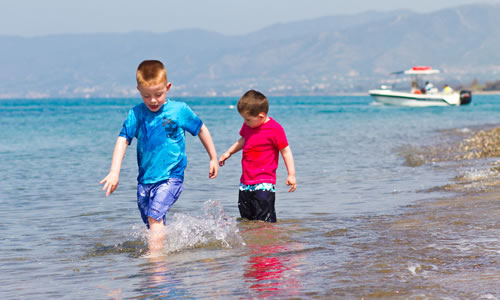 Kids in Cyprus © SmikeyMikey1 - Fotolia.com
October is the last month you can hope to squeeze any real heat from the island, and conditions are warm if a little unpredictable. Expect temperatures in the high-twenties, although evenings are cool so bring a jumper.
Back to Top
5) Tenerife, Canary Islands
A must for families is Siam Park. The enormous Thai-themed water world boasts rapids, free-fall waterslides, wave machines and sea lion island where you can watch the playful creatures frolic - it's a winning spot for all the family. Isabel Family Hotel and Hotel Bitacora both offer free access to the waterpark. Other activities include water sports, and enjoying spectacular views and wildlife found on hikes around the volcano and national parks.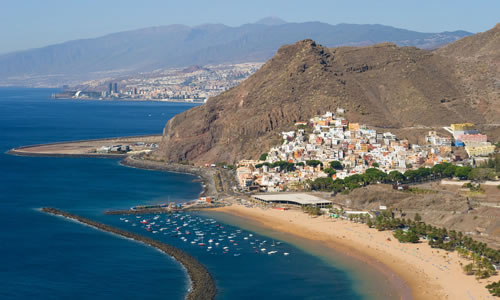 Beach in the north of Tenerife © Santi Rodríguez - Fotolia.com
The ever popular Canary Islands have ambient conditions year round and are easily accessible from the UK. October offers temperatures in the mid-twenties and little rainfall, although the sea temperature is on the cooler side.
Back to Top
6) Jordan
If you fancy something a little different head for Jordan where you can explore the streets of Amman, step back in time at Petra, float in the salt of the Dead Sea, follow in the footsteps of Lawrence of Arabia by riding out into the red sands of Wadi Rum or dive into the Red Sea at Aqaba.
Visit Jordan's only ecolodge at Dana Biosphere Reserve, or spot migratory birds on safari at Azraq and Shawmari Reserves. It's a treat for the senses and an adventure your little ones will never forget.
Jordan's a great autumnal destination thanks to comfortable temperatures in the mid-twenties, nine hours of sunshine per day and its lack of rainfall.
Back to Top
7) Dubai, UAE
Dubai continues to be a hit with families thanks to its array of things to do and guaranteed good weather. From water activities such as wakeboarding, kayaking and sailing, to attractions such as the retro rides at SEGA Republic, the expansive Dubai Aquarium home to the world's largest fish tank, the Underwater Zoo complete with crocodiles and penguins, and Dubai Ice Rink, you'll never be bored. You can also take in the view from the 124th floor of the Burj Khalifa - the world's tallest building.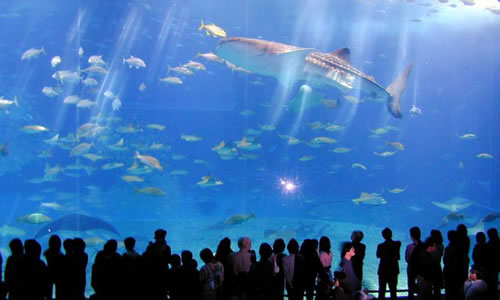 Dubai Aquarium, UAE - Photo © Dubai Dept of Tourism and Commerce Marketing
With temperatures peaking in the mid-thirties and around 10 hours of sunshine per day, October is a very pleasant time of year to visit Dubai after the raging heat of the summer.
Back to Top
8) Florida, USA
Florida is one giant playground for families, rich with theme parks and activities to keep all ages entertained. SeaWorld Orlando, Epcot and Busch Gardens Tampa Bay sit alongside the various Disney and Universal destinations, while children can also get up close with nature by swimming with dolphins or on a hair raising ride through the everglades.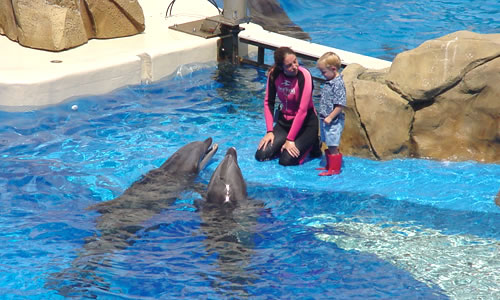 Sea World Orlando, Florida © Fred Hsu
It's a bit of a trip from the closer Mediterranean options, but Florida offers reliable weather with temperatures in the mid to high-twenties and around eight hours of sunshine a day.
Back to Top
Have we inspired you to book your own October half term holiday? Tell us where you're off to, or if you have any questions about destinations in October, please ask.
Jonathan Nigel on Google+
comments powered by

Disqus